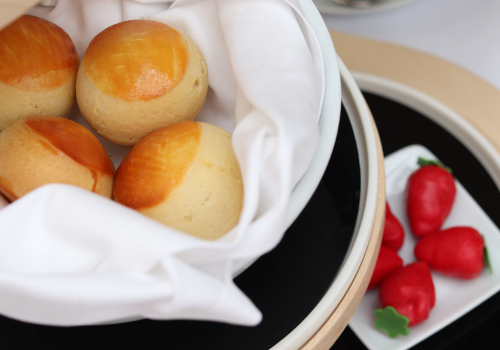 The creator the Cronut, Dominique Ansel, has shared with us his recipe for the perfect Afternoon Tea scones.
Arguably the most important part of the Afternoon Tea experience, scones are notoriously difficult to get right. Dominique Ansel has worked to perfect the Afternoon Tea scone and has shared his secrets in the recipe below.
AFTERNOON TEA SCONES
Makes:30 scones (approx.)
INGREDIENTS
130g    unsalted butter, softened and cubed
140g    sugar
750g    plain flour, plus extra for flouring your work surface and cookie cutter
5g        salt
40g      baking powder
260g    milk
130g    buttermilk
2          large egg yolks
TOOLS
Stand mixer fitted with paddle attachment
Rolling pin
5cm round cookie cutter
Baking tray
Clingfilm
Parchment paper
Pastry brush
METHOD 
In a stand mixer fitted with a paddle attachment, cream the butter and sugar together on medium speed until combined
Add the flour, salt, and baking powder and mix to a crumbly texture.
Add the milk and buttermilk and mix on a low speed until incorporated. (TIP: Be careful not to overmix, otherwise you'll have tough, dense scones.)
Transfer the dough onto a floured work surface. Using a rolling pin, roll the dough out to 2cm thick. Transfer the dough to baking tray and cover with clingfilm. Rest the dough for 4 hours in the fridge - a cold dough will be easier to cut into perfect circles.
Preheat your oven to 165°C.
Once the dough is chilled, cut out circles with a floured, 5cm round cookie cutter in a downward straight motion (make sure to avoid twisting the cutter).
Line a baking tray with parchment paper, and place the scones so that the bottom sides are facing upwards, so your scones will have a nice flat surface.
In a small bowl, beat the egg yolks with a fork to make an egg wash. Brush an even layer of egg wash on top of each scone using a pastry brush and allow to dry for 30 minutes. Brush them with egg wash for a second time, and allow to dry a further 30 minutes. (TIP: make sure that the egg wash doesn't run down the sides of the scones, as this will allow for perfect baking.)
Bake at 165°C for 10 - 12 mins until the scones are well risen and golden. Let cool on a wire rack and serve
SERVE
Recommended to serve freshly baked after cooling with a strawberry jam and clotted cream.