Edd Kimber
Edd Kibber is the 2010 Great British Bake Off winner. After winning the Bake Off, he started working in Raymond Blanc's Le Manoir restaurant, gaining further experience of working in a pastry kitchen. Since then, he has made regular television appearances, featured in magazines and national newspapers, and he has even written two cookbooks.
To celebrate Afternoon Tea Week, Edd Kimber has shared his recipe for his tantalising Dulce de Leche Madeleines.
DULCE DE LECHE MADELEINES
Madeleines should be delicious, but shopbought ones can often be disappointing, heavy and tasteless. But why buy them when they are super-easy to make? To amp up the flavour even more I have filled them with dulce de leche, a milk-based caramel often used in banoffee pie. Once you have eaten them this way you'll probably never want them plain again.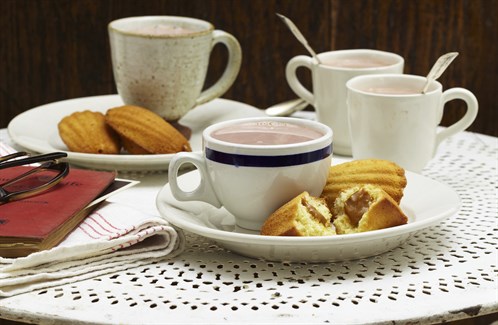 Makes 12:
2 large eggs
100g caster sugar
100g plain flour, plus extra for dusting
1/2 tsp baking powder
100g unsalted butter, melted and cooled, plus extra butter for greasing
For the dulce de leche filling:
400g can dulce de leche
1/4 tsp flaked sea salt
1. Put the eggs and sugar into a large bowl set over a pan of gently simmering water, and whisk constantly until the sugar dissolves and the egg mixture is warm. Remove the bowl from the pan and, using an electric mixer, whisk on high speed for 5 minutes, reduce the speed to medium and beat for a further 3 minutes.
2. Sift the flour and baking powder over the egg mixture and gently fold together until no streaks of flour remain.
Take a large spoonful of the batter and add it to the melted butter, then mix together (this will lighten the butter and help to incorporate it into the batter). Gently fold this into the batter. Cover the bowl with clingfilm and chill for at least 1 hour or up to two days before using.
3. Preheat the oven to 180°C (160°C fan oven) mark 4 and grease a standard 12-cup Madeleine pan, making sure to grease all the ridges. (If you don't have a Madeleine pan you could use a 12-cup muffin pan, although of course the shape will differ.) Dust the pan with flour and tap out any excess. Spoon about 1 tbsp batter into each mould, but don't spread it out; this will happen naturally in the oven. Bake for 12-14 minutes until golden around the edges. Allow to cool in the pan for 5 minutes before turning out onto a wire rack to cool completely.
4. To make the filling, put the dulce de leche and salt into a small pan over medium heat. Stir regularly until the caramel thins out and the salt has dissolved. (This recipe makes more filling then needed, but the extra can be used to pour over ice cream.)
5. Put the filling into a piping bag fitted with a small plain piping tip and press the tip into the end of the Madeleines, squeezing about 1 tsp of the caramel into each.
TIP
Dulce de leche is available in most supermarkets, but is sometimes sold as 'caramel' and stocked with the condensed and evaporated milks.
From Say it with Cake by Edd Kimber is published by Kyle Books, priced £18.99. Photography by Georgia Glynn Smith.
More posts from Edd Kimber