Afternoon Tea Awards 2019 - Commended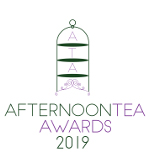 COMO The Halkin Hotel, London's first boutique design hotel, showcases stunning contemporary design with light gourmet treats, cocktails, and Afternoon Teas.
Located in the heart of Belgravia, COMO The Halkin is close to the famous shopping destinations of Knightsbridge and Sloane Street. With a chic styling and relaxed ambience this destination is ideal to drop in to at any time of day.
Their Afternoon Tea has been has been created by the Michelin starred chefs at Ametsa. This divine Spanish inspired Afternoon Tea includes ham croquette, egg & waffle and garlic pintxo, plus chocolate with churros.
A perfect conception of chic, versatile dining, COMO The Halkin in London is 6 minutes' walk from Hyde Park Corner Tube Station.
Afternoon Tea needs to be booked at least 24 hours in advance.
COMO The Halkin Hotel - Belgravia was awarded a Commended certificate at the Afternoon Tea Awards 2019 in recognition of its quality Afternoon Tea service.