The Ampersand Hotel will be resuming Afternoon Tea service on 3rd December 2020
Afternoon Tea Awards 2019 - Commended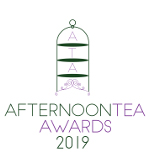 The Ampersand Hotel is inviting children and adults alike to transport themselves to The Drawing Rooms for an out of this world exploration of its award winning Science Afternoon Tea. Inspired by the hotel's South Kensington neighbour, The Science Museum, the Afternoon Tea boasts a star menu of sweet and savoury dishes.
Guests can explore a delicious selection of themed treats including smoked salmon and avocado on blinis. Budding scientists can also dust for a collection of almond dinosaur shortbreads & fossil chocolates and use test tubes to sprinkle toppings on the homemade plain or white chocolate scones.
Guests feeling in a decadent mood can upgrade to the indulgent Science Teapot Tales, which comes served with a themed cocktail flight. A grown-up twist on The Ampersand Hotel's famous Science Afternoon Tea, the menu is inspired by the neighbouring Natural History and Science Museums.
One of the most stylish hotspots in Kensington, this luxury London hotel combines excellence in design, service, food and technology in an 1888 building at the capital's heart. Inspired by those great Victorian values of discovery and wonder - botany, music, geometry, ornithology and astronomy- and given them a modern twist, creating a cosmopolitan boutique hotel.
With deep sofas and studded armchairs, scarlet velvets, and kingfisher blues, The Drawing Rooms is where English heritage meets the 'salon de thé' - the whole instilled with a contemporary Ampersand feel. With large windows onto the bustling London street scene, this is the perfect place to watch the world go by while enjoying pretty patisseries, tartines and afternoon tea - the gathering warmed by an open fire.