Afternoon Tea Awards 2018 - Highly Commended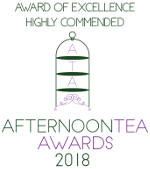 Enjoy a delicious Afternoon Tea in Kona at Taj 51 Buckingham Gate, a vibrant Southern European restaurant which marries contemporary styling with traditional cooking techniques. Visit to experience fresh and fine ingredients and predominantly sustainable organic produce served in an elegant environment with homely, welcoming warmth.
The Afternoon Tea in Wonderland has been expertly crafed by Pastry Chef Nikhil Vyas. After finishing their meal, diners can take home a copy of Alice in Wonderland with a special collectors edition cover designed by Ethan McClean.
Kona at Taj 51 Buckingham Gate was awarded a Highly Commended certificate at the Afternoon Tea Awards 2018 in recognition of its high quality Afternoon Tea service.
Just a stone's throw from Buckingham Palace, Kona is nestled in the 5-star Taj 51 Buckingham Gate, a prestigious and luxury hotel.