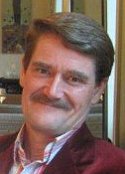 Trevor Newton
Trevor is a freelance architectural and topographical artist and illustrator, whose work has been featured in a number of international publications. He studied History of Art at Cambridge University and later became the first full-time teacher of the subject at Eton College.
We sent artist Trevor Newton along to Sketch London to try their fantastic new Afternoon Tea menu and to give us his impressions of the recently designed Gallery room, where Afternoon Tea is now being served at weekends.
Psychiatrists and psychologists tell us about the value even for adults of 'play' and of occasionally indulging the 'inner child', well Sketch in central London's Conduit Street is the perfect place to do just that; an eccentric, imaginative, wittily detailed venue where visual and gustatory delights beguile and bewitch at every turn. To describe many of these in words would (as you will see) be almost impossible, so on my visit I clicked away with my mobile phone camera to try to capture some of the fun.
And the fun starts on the pavement outside. Initially, the building looks very respectable and sober, with its handsome cream classical facade, but look more closely and you will see the sculpture of a strange, faceless but exceptionally well-endowed Great Dane acting as gravity-defying watchdog above the tall Georgian ground-floor windows.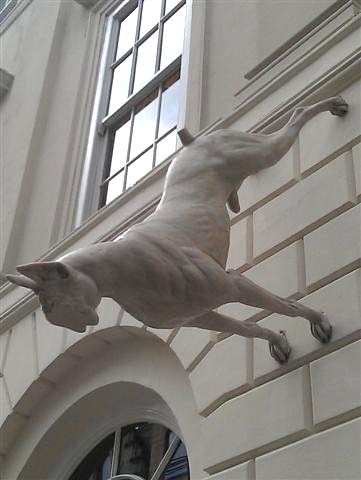 Clearly we are in for an afternoon of the unconventional and the idiosyncratic.
As we entered the lobby, a slight anxiety began to set in. I had chosen as my guest a very dear and very stylish artist friend whom I hadn't seen for some years. We were clearly going to be doing lots of catching up on family news etc. Would the visual delights of Sketch distract me from my social duties as a host? Would friendly chat with an old friend distract me from my journalistic obligations as an intrepid afternoon-tea reviewer?
In the end, the two blended wonderfully, my guest being as enthralled by the wonders of Sketch as I was. Our afternoon turned into a perfect blend of reminiscent, gossipy chat and frequent admiring asides about the surprises which met us at every turn.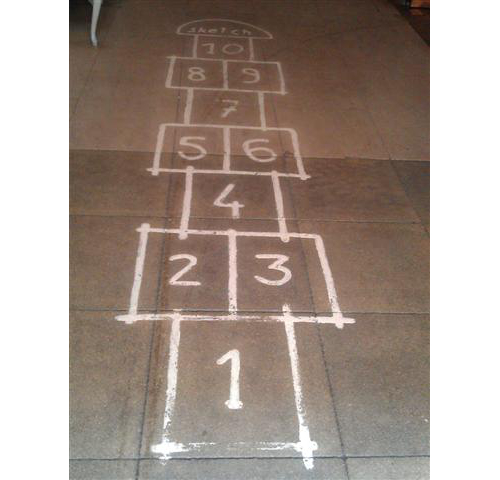 And the surprises began as soon as we crossed the threshold. A hop-scotch grid is painted on the floor of the mysteriously lit vestibule and such is the spirit of fun which the friendly staff exude that I am sure we would have been very welcome to use it.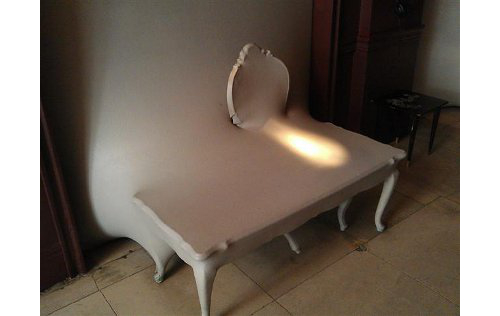 Around it, strange Rococo chairs and table surfaces press themselves forward out of tautly stretched, oddly textured silver fabric. To the right, a delightful walk-in cafe opens. Is this where we are to have tea? It looks charming. Oh no; our afternoon tea experience will be conducted in much more exotic and sensually stimulating surroundings than this.
This was my second visit to Sketch and I wondered whether that authentically friendly, warm and interested welcome which I received last time would be repeated. It was; the staff at Sketch all seem genuinely to enjoy their jobs and to be enthusiastic about sharing the excitement and fun of their highly unusual and vibrant workplace with their visitors.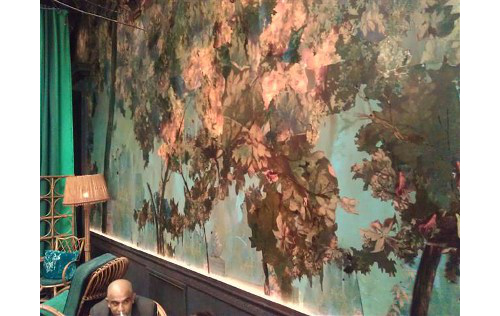 We are conducted to our table in the high, dramatically curtained Glade tea room, top lit and with the purple-painted vestiges of ornate Victorian wall friezes contrasting with the rich turquoise hangings.
A small Japanese girl at a neighbouring table is transfixed, mouth wide open, as she watches large oval mirrors along the cornice rotating slowly to catch and angle the light and to reflect the vast, twisted tree-root-like chandelier.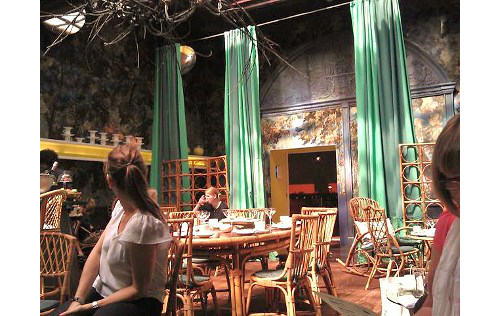 The menu is printed to resemble a Victorian mail-order catalogue, with scores of charming and quirky old steel engravings to look at. Ed, my guest, is offered a glass of champagne, Pommery Brut Royal, deftly poured from the bottle. He orders some Vanilla tea to accompany his food (though he could have had a choice of twenty other teas and herbal infusions). I order a pot of the enticingly named 'Taiwan Oriental Beauty'.
As we wait for our meal to unfold, we both study the menu descriptions of our respective beverages. Ed's is 'a black tea scented with sumptuous, moistly ripe vanilla and a soft, raisin-sweet edge', mine is a 'supreme Formosa Oolong, offering a complex aroma with a delicate, sherbet sweetness'. We smile a little at these summaries, thinking that they may be perhaps a little high-flown, but no; when the teas arrive and are poured into ingenious double-walled glass tumblers, we agree entirely. There is a fruity undertone to the vanilla and a definite honey hint to my Oolong.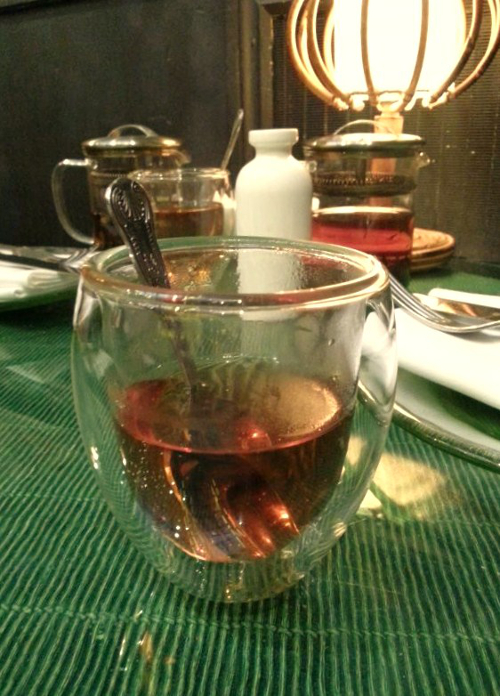 A gloriously colourful three-tiered pyramid of delights is borne over to our table and is briefly but enticingly explained to us. Smoked salmon, quails' eggs, ricotta and broccoli are among the sandwich ingredients, but 'sandwich' is the wrong word for these fanciful and diverse creations. The whole selection looks so freshly prepared and has been created and assembled with such evident verve and attention to detail that we decide to do it justice.
Keeping conversation to a respectful but admiring minimum, we give each item on the stand its due, tasting our pairs of treats at the same time to compare sight- and sense-impressions. Flavours are subtle and complex, one ingredient breaking gently through another in each mouthful, and the textures are balanced and juxtaposed with great care.
We have scones, too, of course, but even that touch of the traditional is enlivened by the accompaniment of fig- as well as the usual strawberry jam. It goes without saying that both are homemade. Then it is on to salted butter caramel macaroons and fig and apricot tartlets. The latter are superb, with a fleck of real gold leaf in the centre of each.
We pause for a while to let the flavours sink in, then move eagerly on to gianduja Chocolate eclairs and the neat, boat-shaped lemon meringue tartlets. Witty side touches are coconut and praline lollipops and a dish of orange blossom, lemon and passion fruit marshmallows. These latter delights are being much enjoyed by the children of a family party of French visitors at a neighbouring table.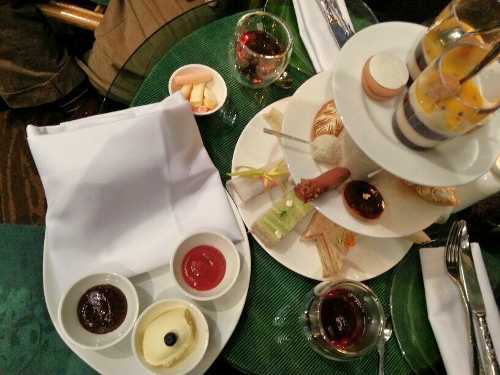 Things might be thought to be teetering of the verge of excess as we move onto the pair of Greek yogurt, blackcurrant marmalade and creme de cassis jellies that top our cakestand, but no, the textures are light and airy and provide a perfect finish to our truly extraordinary tea.
A long digestive pause and much appreciative talk follow, then, for me, it's Loo time - not really a call of Nature, but one of Curiosity. Would the thread of fantasy be woven as far as the Gents', or would one have to step behind the scenes, as it were, and let a little dreary daylight in on the magic of Sketch? I needn't have worried.
One moves through 'Gallery' restaurant, where Afternoon Tea is now served at weekends where every single item; tables, chairs, lights and glasses, and knives, forks, spoons in their thousands, is different. Riotous Retro and Classy Kitsch many of them, but strangely harmonious and un-jarring in the restrained and mysterious half light.
Then one sees The Staircase. A 2001 Space Odyssey meets Doctor Who meets Austin Powers extravaganza of gleaming white plastic and stained glass panels which curves up and over the space-module like cocktail bar. And the loos! Egg-like pods dotted around this oddly calming upper room, with unisex washbasins lining the walls. I chose my pod (after having mistakenly opened a similarly disguised cleaner's cupboard!) and sealed myself into its palely lit and comforting interior.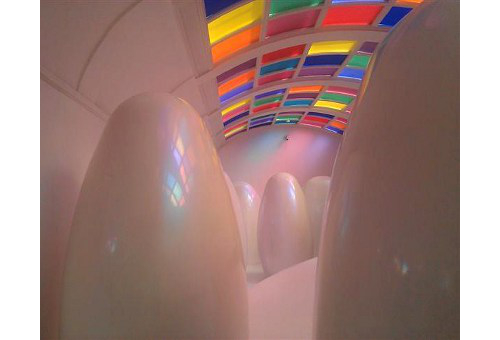 Ablutions completed, I rush back to the tea room to tell Ed about these most extraordinary 'facilities', at the same time as a lady is approaching her husband with similar enthusiasm: 'Leave the Earl Grey for a moment, dear; you've just got to come and see these loos'. Not a phrase I have ever used over Afternoon Tea before.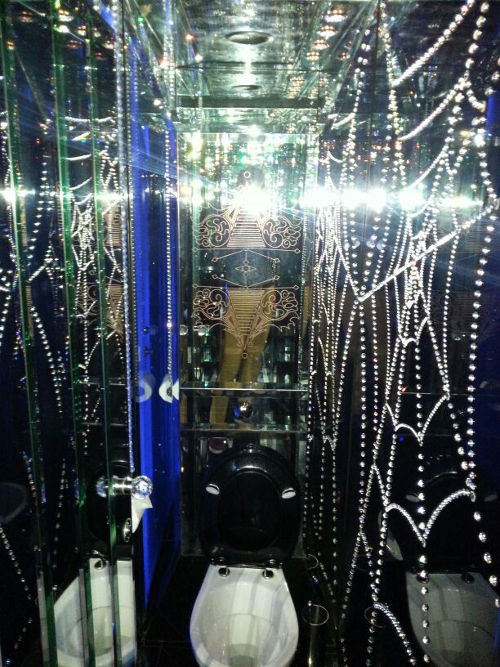 And now for 'The Touch'. That little thing that makes the service at a hotel or restaurant special or memorable. At the last hotel I reviewed, it was the fact that a waiter remembered and used my name when I went back next day to retrieve a forgotten umbrella. At Sketch the detail was even more impressive. Our waitress (really friendly, and good at creating a sense of fun-fuelled anticipation) must have overheard me as I cursed lightly after dropping some fig jam on my freshly laundered Chinos. A few seconds later - and unbidden - she was at the table with a bowl of hot water and a fresh linen towel on a neat salver for me to deal with the stain. Most impressive.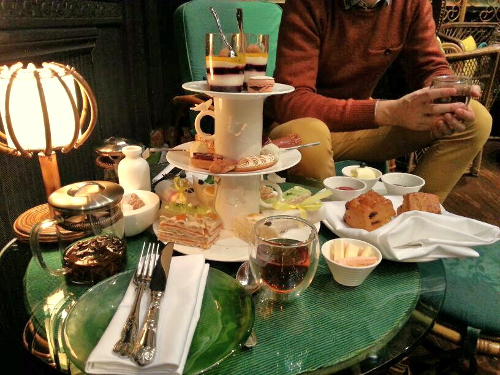 Now, as I said at the start of this review, the photographs don't really do justice to the world of colourful fantasy and imaginative fun to be found at Sketch. All the more reason, then, for you to pay a visit in person and to see and enjoy it all for yourself.
And I hope you enjoy yourself as much as Ed and I did. I am pretty confident that you will......
More posts from Trevor Newton