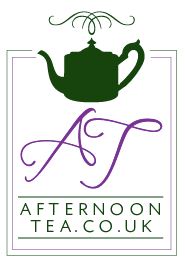 The AfternoonTea.co.uk Team
Here at Afternoon Tea Towers the team are always on the look out for Afternoon Tea related news, reviews, seasonal menus, special events and competitions.
You can get in touch with us via Twitter, Facebook and Google+ or email us at team@afternoontea.co.uk if you have anything you would like to share or contribute.
---
Despite the recent snow storms and rain, Spring has officially sprung! Today marks the Spring equinox and the promise of brighter days. To celebrate the warming weather, we've rounded up some of our favourite locations for a Spring Afternoon Tea.
As Spring begins to bloom, you can look forward to floral themes, invigorating flavours and al fresco dining with your Afternoon Tea. So, in no particular order, here are some of our favourite seasonal menus on offer:
1. Honey Bee Afternoon Tea at Dalloway Terrace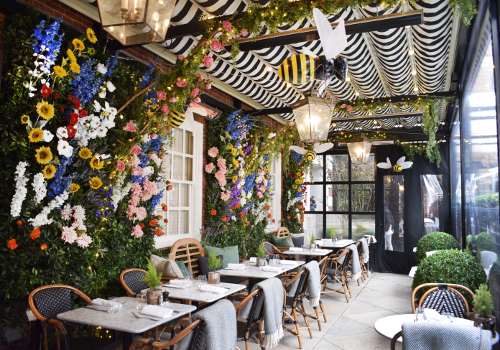 Dalloway Terrace's Head Pastry Chef, Chris Dodd, is delighted to introduce their new Spring Afternoon Tea, themed on the humble bee. This menu takes inspiration from the importance of sustainability and the key habitats which are crucial to the continued existence of the honey bee.
2.FLOWERBX Afternoon Tea at Balthazar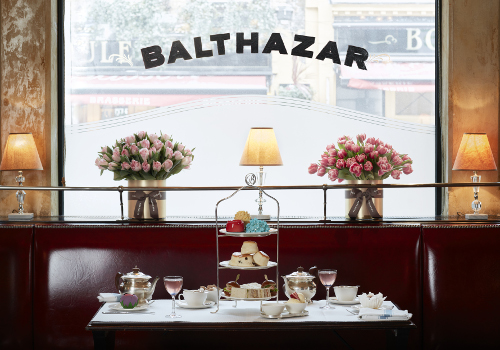 Balthazar have collaborated with online flower delivery service, FLOWERBX, to create a beautiful new Afternoon Tea. Head Pastry Chef, Regis Beauregard, has combined his talents with FLOWERBX CEO, Whitney Bromberg Hawkins, to craft a range of classic cakes in the shape of colourful seasonal blooms for diners to enjoy.
The pastry creation has been influenced by the strongest FLOWERBX hues including Sky Blue Hydrangea, Violacious Tulips, Petal White Anemone, Sunburst Dahlia, and the newly introduced, deep red Balthazar Rose, in this new Afternoon Tea that is sure to excite London's fashion and flower lovers alike.
3. The English Country Garden Afternoon Tea at The Marylebone Hotel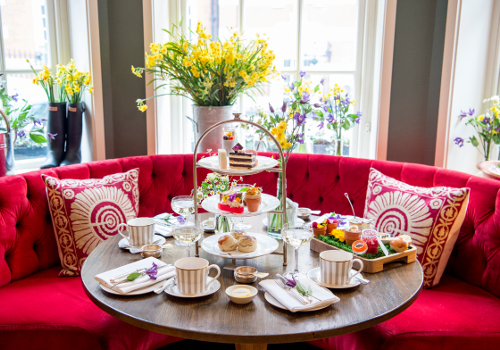 Created by Executive Chef Russell Ford, this quintessentially British Afternoon Tea has been designed to encapsulate an idyllic English country garden setting. Served with grass meadow serving boards, terracotta pots, edible flowers, fork and spade fashioned cutlery and surroundings adorned in freshly cut flowers, this Afternoon Tea captures the essence of Spring.
You can read our recent review of the English Country Garden Afternoon Tea here.
4. The Clevedon at Ben Rhydding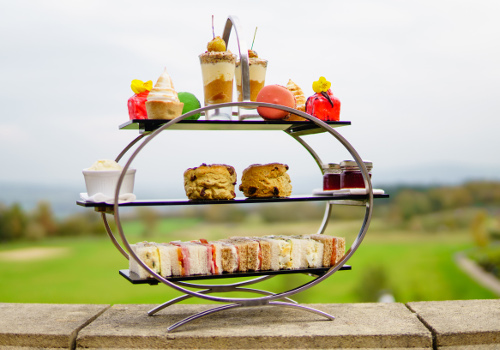 Situated in the glorious Yorkshire countryside, The Clevedon's terrace is the ideal location to enjoy an alfresco Afternoon Tea on a sunny Spring day.
5. Mad Hatter's Afternoon Tea at The Sanderson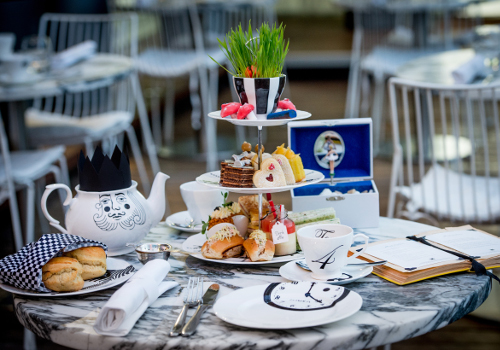 This iconic Alice in Wonderland themed Afternoon Tea pays homage to the Easter rabbit and features a range of refreshing sweet treats that match the season. The Mad Hatter's Afternoon Tea features a playful grass-filled teacup as the centrepiece of your tea stand and is the perfect treat for the Easter weekend. Make the most of a sunny day and take Afternoon Tea in The Sanderson's courtyard garden.
6. Spring diptyque Afternoon Tea at Hotel Cafe Royal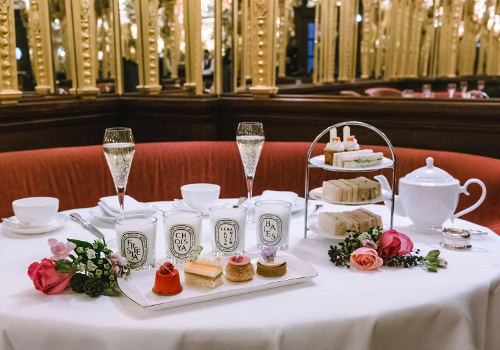 Hotel Cafe Royal has joined forces with luxury French perfumer diptyque to create a new sensory tea experience where taste and scent unite in harmony. Their Spring menu features beautifully crafted pastries with delicate floral flavours, accompanied with your choice of over 30 tea blends and infusions.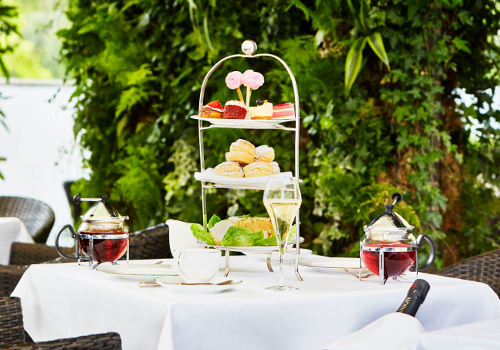 Celebrate all things great and British this Spring with a the Flowering Afternoon Tea at Montague on the Gardens. Enjoy a range of floral tea time treats, perhaps with a glass of Lanson Champagne, whilst overlooking the gardens as they bloom. A Children's Afternoon Tea is also available.
More posts from The AfternoonTea.co.uk Team