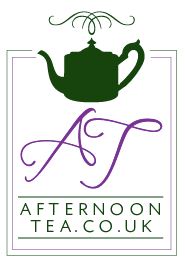 The AfternoonTea.co.uk Team
Here at Afternoon Tea Towers the team are always on the look out for Afternoon Tea related news, reviews, seasonal menus, special events and competitions.
You can get in touch with us via Twitter, Facebook and Google+ or email us at team@afternoontea.co.uk if you have anything you would like to share or contribute.
---
The countdown to Christmas is well and truly underway and at AfternoonTea.co.uk we think there's no better way to get into the spirit of the season than by indulging in a Festive Afternoon Tea!
Please note this post is from 2016 and the information is now out of date

After a busy day Christmas shopping, the ideal way to relax is to retreat from the cold weather and warm up with a cup of tea and treat yourself to a selection of delicious goodies in opulent surroundings.
Venues all over the country are celebrating the festive season by crafting special menus that put an inventive twist on their traditional Afternoon Tea.
Whether you are looking for Christmas carols sung whilst you enjoy your tea or delicate pastries in the shape of festive favourites, we've compiled together a list of some of the top Afternoon Teas embracing the magic of Christmas.
The Royal Garden Hotel - Kensington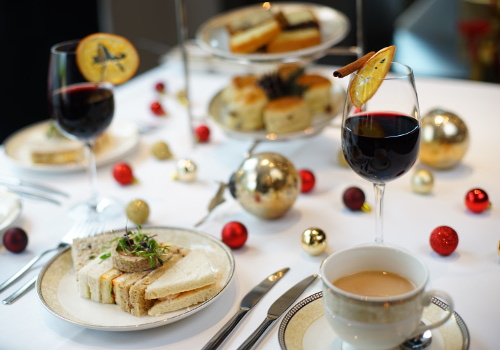 This stylish 5-star hotel set in the heart of Kensington has crafted a special menu in celebration of the festive season. Available from 1st - 24th December, this delicious menu features an assortment of festive finger sandwiches, freshly baked Christmas pudding and cinnamon scones and a selection of seasonal sweet treats such as a Christmas tree chestnut cupcake. Diners can enjoy an exclusive offer of this Afternoon Tea with a complimentary glass of mulled wine for £31 per person.
The Balmoral - Edinburgh
Why not get into the seasonal spirit at this famous Edinburgh Hotel and indulge in their sumptuous Afternoon Tea specially designed for Christmas. Throughout December you can indulge in a luxurious menu full of festive favourites such as turkey and cranberry sandwiches and Christmas pudding with Armagnac cream. Diners can enjoy this menu for £40 per person or upgrade to include a glass of Champagne for £55 per person.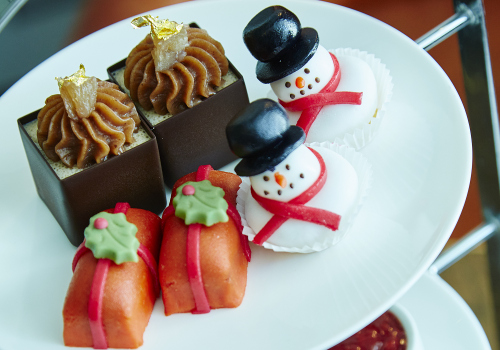 Celebrate Christmas at Lanes of London in the London Marriott Hotel situated on the prestigious Park Lane. This sophisticated venue has crafted a menu in celebration of the festive season featuring cupcakes in the shape of snowmen and milk chocolate and clementine stollen in the shape of a Christmas present. Available until 31st December, this venue is offering 35% off this menu meaning diners can enjoy a selection of sumptuous seasonal savoury and sweet treats for £25.35 per person.
Coworth Park - Berkshire
This delightful country hotel is offering an extra sparkle at Christmas time with a Champagne Afternoon Tea accompanied by carols from local choir, Royal Harmonics. Available weekends until 18th December, guests can enjoy a festive twist on the hotel's traditional Afternoon Tea featuring a range of seasonal sandwiches and pastries. Adults can enjoy this menu with a glass of Veuve Clicquot for £52.50 per person with the children's menu priced at £25 per child.
The Lanesborough - Knightsbridge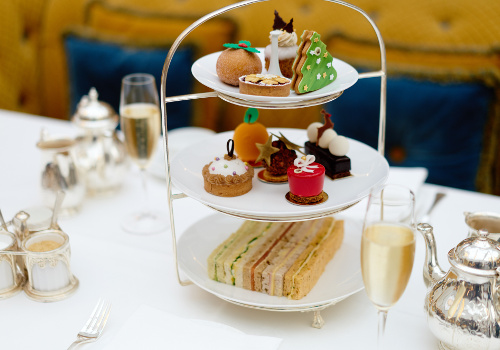 To celebrate the festive season, The Lanesborough's head chef, Nicolas Rouzaud, has recreated their Traditional Afternoon Tea menu with a creative, Christmas twist. Classic pastries have been reinvented to include seasonal delights such as a spicy Christmas muffin and a mulled wine and pear cake. Indulge in an afternoon of pure luxury at this elegant venue that is topped off with a glass of Taittinger Champagne NV. Available from 25th November - 1st January, this Afternoon Tea is priced at £65 per person.
The Chesterfield - Mayfair
Located just a short walk away from Hyde Park, The Chesterfield Hotel is ideally located for guests looking to relax and unwind after a busy day exploring the attractions in the park's Winter Wonderland. Their Christmas Afternoon Tea menu features something for the whole family with a Winter Wonderland Afternoon Tea for adults consisting of a selection of festive favourites that can be enjoyed with a glass of mulled wine and a Little Elves Afternoon Tea for children. Available 21st November - 1st January, The Winter Wonderland Afternoon Tea is priced from £38.50 per person and the Little Elves Afternoon Tea is priced at £19.50 per child.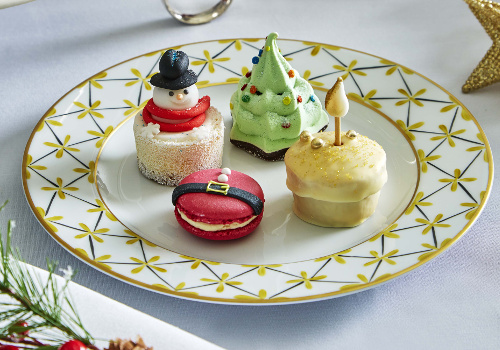 In celebration of Christmas, The Capital have collaborated with critically acclaimed pastry chef Claire Clarke to craft a delicious Festive Afternoon Tea menu. Diners can indulge in a selection of scrumptious sweet delights in the shape of festive favourites such as a mint meringue Christmas tree at this fashionable townhouse hotel located in the heart of London's prestigious Knightsbridge area. Priced at £29.50 per person, this menu is available from 21st November until 31st December.
The Midland - Manchester
Situated in the heart of Manchester City Centre, The Midland Hotel is an elegant venue in which to indulge in Afternoon Tea. Diners can get into the Christmas spirit with The Midland's Festive Afternoon Tea menu that features seasonal dishes such as turkey and cranberry sandwiches and sweet treats such as a white chocolate and cranberry snowball. Available from 25th November until 30th December, this Afternoon Tea is priced at £33 per person Monday - Thursday and £35 per person Friday - Sunday.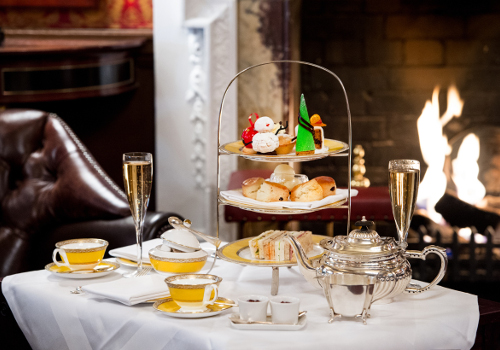 Looking for something more traditional this Christmas? The iconic Goring Hotel are famous for their delightful Afternoon Tea and to celebrate Christmas they have given their Afternoon Tea a festive makeover. Afternoon Tea is served on the Terrace and guests can enjoy themed treats such as a gingerbread snowflake and a blood orange bauble. Priced from £42.50 per person, this festive menu is running from 22nd November until 5th January.
Radisson Blu Edwardian Manchester
On selected dates throughout December, you can enjoy a themed Afternoon Tea at Radisson Blu Edwardian Manchester while listening to the angelic sound of carollers performing a range of Christmas classics. Located just a short walk away from Manchester Christmas markets, diners can unwind in the warmth and comfort of this venue's OpusOne restaurant while enjoying a delicious traditional or gentlemen's Afternoon Tea.
More posts from The AfternoonTea.co.uk Team