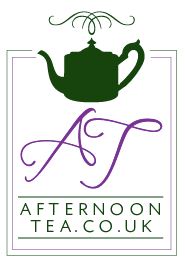 The AfternoonTea.co.uk Team
Here at Afternoon Tea Towers the team are always on the look out for Afternoon Tea related news, reviews, seasonal menus, special events and competitions.
You can get in touch with us via Twitter, Facebook and Google+ or email us at team@afternoontea.co.uk if you have anything you would like to share or contribute.
---
The Midland is one of Manchester's finest establishments, so naturally the Afternoon Tea team were delighted to try their Traditional Afternoon Tea menu.
Mancunians will be familiar with the iconic Midland Hotel. Its extravagant Edwardian Baroque architecture has been a definitive part of Peter's Square since it's construction in 1093 and the hotel is famously the scene of Rolls and Royce meeting before forming the legendary car company. These days, The Midland is a celebrity haunt and certainly one of the best places in Manchester for a traditional Afternoon Tea experience.
If you haven't had a chance to visit the Tea Room, we highly recommend it. As my mum had never experienced an Afternoon Tea before, I decided that she was the perfect guest to accompany me for The Midland's Traditional Afternoon Tea.
We made our way through the swish lobby and were led into The Tea Room, a quaint space that perfectly matches the tradition of Afternoon Tea. The understated elegance of the room, with muted colours in lush fabrics, bright natural light and a lovely teapot display, created a relaxed yet sophisticated atmosphere to while away the afternoon in.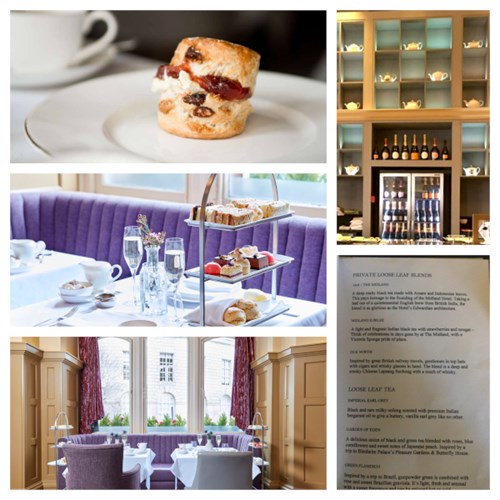 As Afternoon Tea is supposed to be a luxurious affair, we opted for their Royal Traditional Afternoon Tea menu. A crisp glass of Champagne is the ultimate treat! As we sipped on our glasses of Montaudon Cuvee Brut, the tea selection and sandwich options were explained to us by a knowledgeable and friendly team member.
The Midland boast an extensive loose-leaf tea selection, which includes three of their own exclusive blends. As tempting as they sounded, we opted for the White Elixir (a white tea with jasmine petals, ginko leaves and spirulina) and the Garden of Eden Tea which were promptly served in elegant porcelain teapots with a beautiful silver strainer.
Our Afternoon Tea was ceremoniously presented on a tall Afternoon Tea stand, which conveniently saved space on our dainty table.
First things first- the sandwiches. Commonly overlooked in favour of the sweets, the humble finger sandwich can make or break an Afternoon Tea. Served on a selection of delightfully fluffy breads, the finger sandwiches were moreish and flavoursome. They didn't disappoint! My mum opted for the standard menu which included traditional chargrilled chicken, a poached fillet of salmon and roast beef fillings. Meanwhile, I opted for the vegetarian selection which included tempeh, gin infused cucumber and falafel. Vegetarian options have a reputation for being a sad afterthought, but I was very impressed with the variety of fillings from ranging from tempeh to hummus.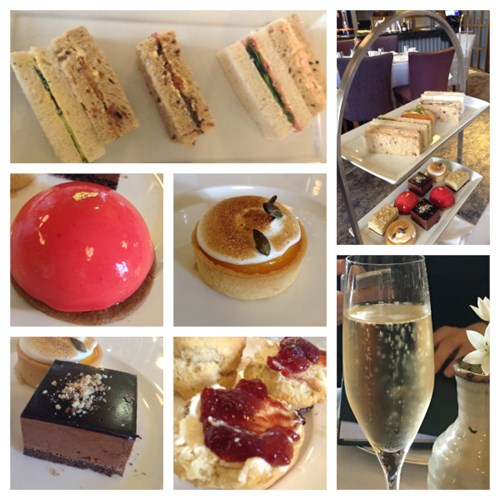 Next, the scones. This was personally my favourite part of Afternoon Tea at The Midland Hotel as they serve the scones with traditional silver service which is such a treat! Warm, freshly baked scones with a slightly sweet glaze were accompanied with thick clotted cream and our choice of preserves, ranging from strawberry jam, raspberry jam and lemon curd.
Lastly, we made our way onto the cakes. A divine selection of pastries that included an autumnal butternut meringue pie with toasted pumpkin seeds, a rich Valrhona dark chocolate delice with smoked almonds & Maldon salt, an apple & blackberry gateaux and my favourite, a beautiful tonka bean panna cotta.
All in all, Afternoon Tea at The Midland was a delightful experience that encapsulated the traditional aspects of Afternoon Tea.
It was the perfect introduction to the great British ritual of Afternoon Tea for someone that had never tried it before, and very reasonably priced from £27 per person or £34 per person with Champagne.
More posts from The AfternoonTea.co.uk Team