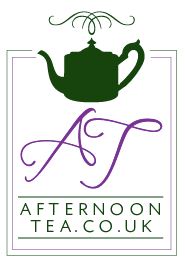 The AfternoonTea.co.uk Team
Here at Afternoon Tea Towers the team are always on the look out for Afternoon Tea related news, reviews, seasonal menus, special events and competitions.
You can get in touch with us via Twitter, Facebook and Google+ or email us at team@afternoontea.co.uk if you have anything you would like to share or contribute.
---
The Afternoon Tea team recently checked out the new Swinging Sixties Afternoon Tea at The Jumeirah Carlton Tower. We tried out this inventive menu that is available until 20th November.
The Jumeirah Carlton Tower Hotel, which opened in January 1961, is a perfect period venue for the themed afternoon tea which has been devised to coincide with the V&A's fascinating and comprehensive exhibition "You Say You Want a Revolution? Records and Rebels 1966 - 1970".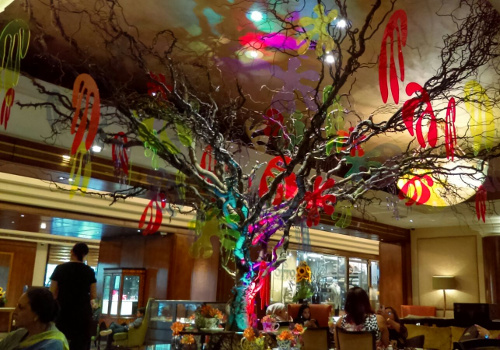 Interestingly, the lounge of the Jumeirah, with its elegant wooden panelling and streamlined coffered ceilings, has an almost Art Deco look, one well suited to the sophisticated and delicious afternoon teas served there. The Sixties theme, however, is gloriously established by an enormous, many-branched tree installed in the centre of the lounge and hung with wacky, psychedelic plastic mobiles and shifting coloured lights; a combination which strongly evokes that most 1960's of objects, the Lava Lamp.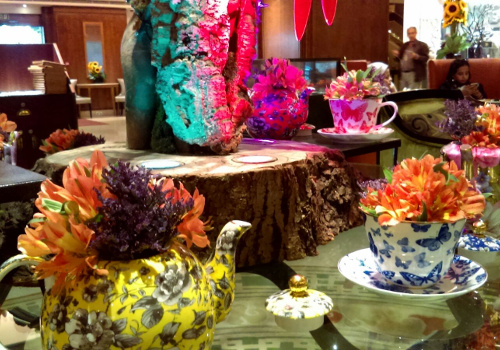 Underneath the charmingly colourful tree are tiered displays of cheerfully-patterned teapots and teacups filled with bright and beautiful flower arrangements.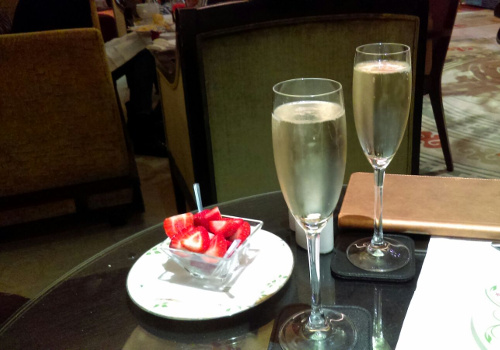 After whetting our appetites with a glass of champagne and a strawberry or two, we tucked into our first course of savoury items, all of which 'riffed' amusingly on some culinary staples of the 1960's dinner party repertoire.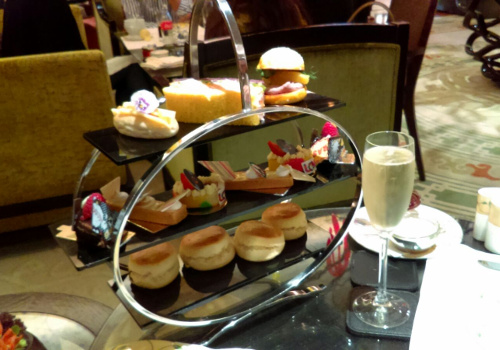 Cheese and pineapple were beautifully transformed into a brioche confection of smoked cheddar, pineapple chutney and edible flowers. Prawn cocktail is reinvented as a three-coloured, three-tiered sandwich with Atlantic prawns, baby gem lettuce and Marie Rose sauce, while Duck-a-l'orange makes its appearance as duck liver parfait in a brioche bun with orange and pea shoots.
If the savoury items play on the tastes and textures of the 1960's, the cake selection puns on its visual aspects. Strawberry-, Belgian chocolate- and yuzu curd pastries are studded, sprinkled and bedecked with miniature chocolate LP records, pink glitter dust and edible, coloured Pop Art-inspired Batman TV show fight captions. This was also the only time that we are ever likely consume chocolate "Make Love Not War" badges!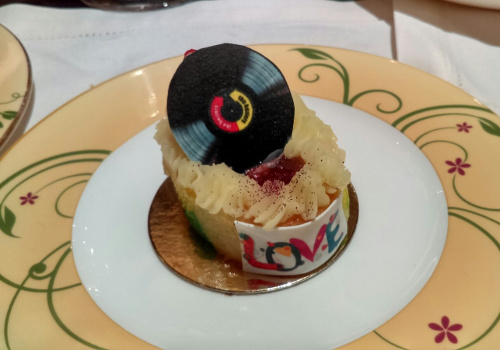 We finished with rather more traditional English scones, jam and clotted cream, all brought to us by another member of the extremely efficient, friendly and polite staff who had done everything possible to make our afternoon so enjoyable and memorable.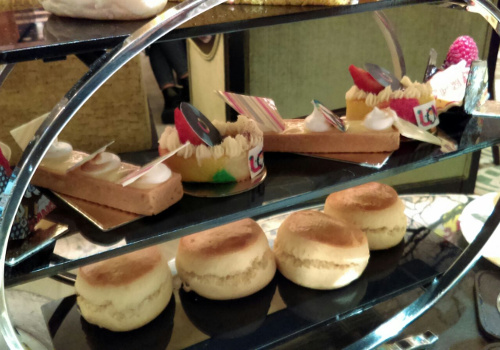 The icing on the cake - pun intended - was the slim envelope handed to us as we rose to leave. It contained two tickets to the V&A 1960's exhibition, for which our Jumeirah Carlton Tower afternoon tea had so wittily prepared us. A word of thanks and appreciation must also go to the hotel harpist who throughout the afternoon had gently entertained us with her delicate and intriguing versions and variations of classic Beatles songs. A delightful accompaniment to a delightful afternoon tea experience.
The Swinging Sixties Afternoon Tea is available until 20th November. To book this Afternoon Tea, visit here
More posts from The AfternoonTea.co.uk Team