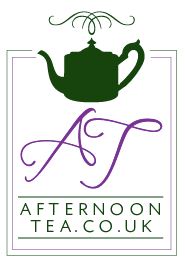 The AfternoonTea.co.uk Team
Here at Afternoon Tea Towers the team are always on the look out for Afternoon Tea related news, reviews, seasonal menus, special events and competitions.
You can get in touch with us via Twitter, Facebook and Google+ or email us at team@afternoontea.co.uk if you have anything you would like to share or contribute.
---
On a fine Spring day we took a five minute stroll from Gloucester Road tube to the airy spaciousness of the Atrium Restaurant in the London Marriott's Kensington Hotel.
Fans of architecture might appreciate one of the largest roof-hung glass atriums in Europe, but we were there to partake of the Hotel's newly launched Sumptuous Afternoon Tea. Sumptuous is not a word you hear much nowadays so I turned to my dictionary to find that it means "luxuriously fine or large, lavish and splendid". And, my word, the tea most definitely lived up to its name!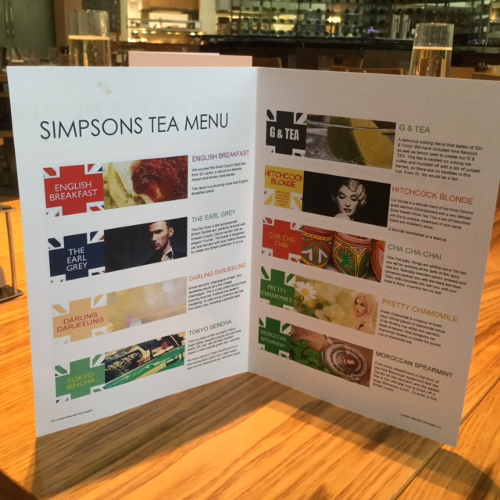 We began in fine style with a glass of Prosecco as we studied the attractive menu, produced in partnership with Simpsons Teas - "British Teas of Style" - a relatively new, woman-owned business which, based on our experience, is sure to go far. My companion opted for Darling Darjeeling, the champagne of teas, and he found it delightful, dark brown and delicate. I chose Hitchcock Blonde, described as a delicate blend of the finest Sencha green tea with Silver Needle white tea, set off beautifully with the lip-smacker sweetness of pink candy hearts and strawberry slices. It was sweet but not overly so and, without milk, very light and refreshing, a perfect foil for the food, which now arrived at our table, appetisingly displayed on a three-tiered cake stand.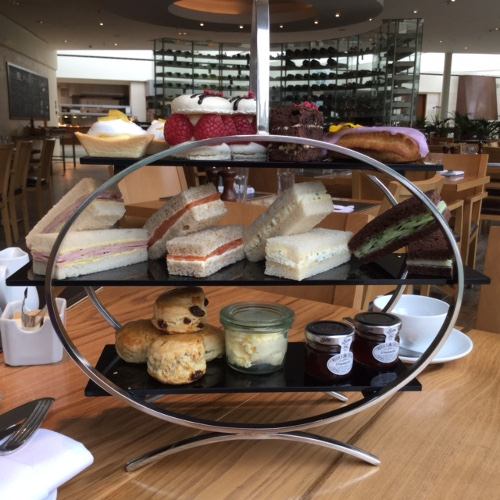 The selection of finger sandwiches was obviously freshly prepared, all with generous fillings, of smoked salmon and dill crème fraiche on brown bread, egg mayonnaise on white bread, honey roast ham with English mustard on white bread and - a truly inspired combination - cucumber with mint butter on white bread. The latter is something I'll definitely try at home - who said cucumber sandwiches are dull?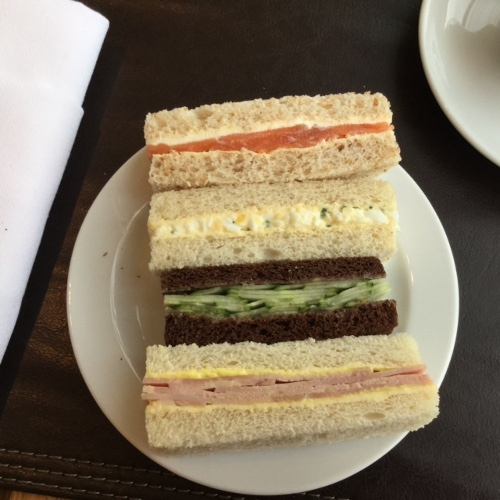 The scones were dainty, but not too dainty to be satisfying, fresh and warm, a plain one and a raisin one for each of us, with Cornish clotted cream and strawberry preserve. Finally, the pinnacle of sumptuousness, a quartet of scrumptious cakes and pastries: for each of us a vanilla and raspberry macaroon, a lemon posset meringue, a "classic opera" which, in this instance, is not a song-fest by Bizet or Verdi but a glorious mixture of chocolate ganache, sponge, buttercream and coffee, and an Earl Grey tea éclair with elegant mauve icing decorated with a real pansy petal. Scrumptious indeed and, overall, a delicious burst of flavours, both contrasting and complementary.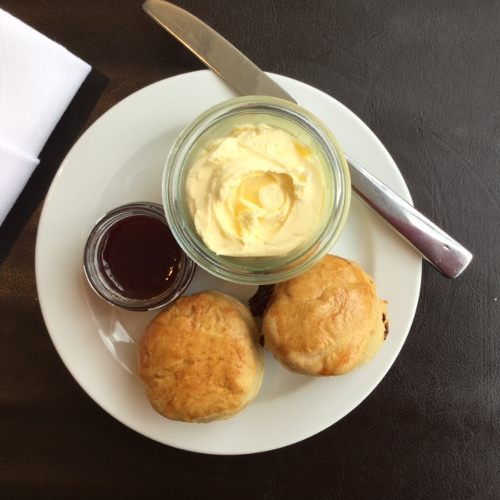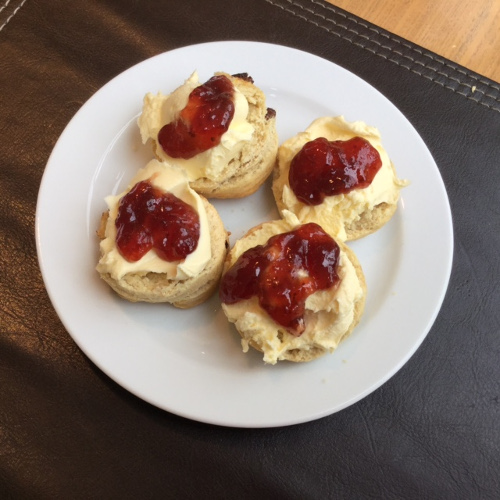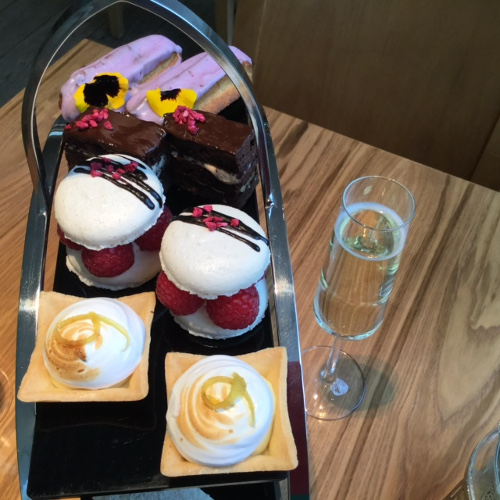 Tea is served in novel glass and steel pots with an insert which suspends the leaves in boiling water for the preferred time - elegant egg timers provided - and then lifts them away so the tea does not become stewed. Always a little suspicious of new gadgets I was slightly surprised to find the teapot worked perfectly, as well as looking chic and attractive. The hotel is sure to have guests requesting purchase. We felt duty-bound (!) to try a second offering of tea in the form of G & Tea, which is an oolong blend tasting of gin and tonic (honestly), and Tokyo Sencha. Both were as satisfying and refreshing as our first choices.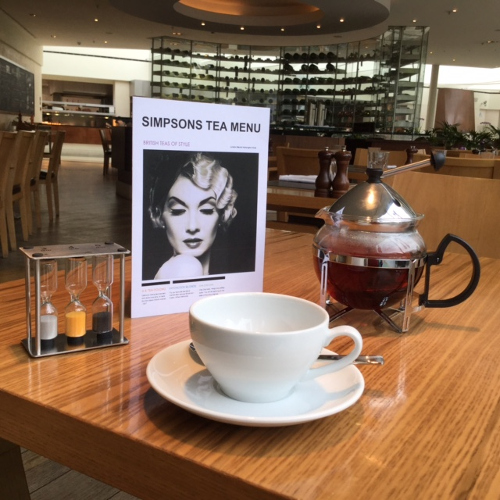 We were looked after beautifully throughout, nothing was too much trouble, there was no sense of rush and we left with a little parcel of sweet treats that, with the best will in the world, we couldn't manage at the time. Everything is baked in-house. We heard how the Hotel's Executive Chef has returned to his first incarnation, as a Pastry Chef, to create the menu. Our tea came with bubbles in the form of unlimited Prosecco. Other menu options are the standard tea without wine, or a glass of Moët champagne as accompaniment.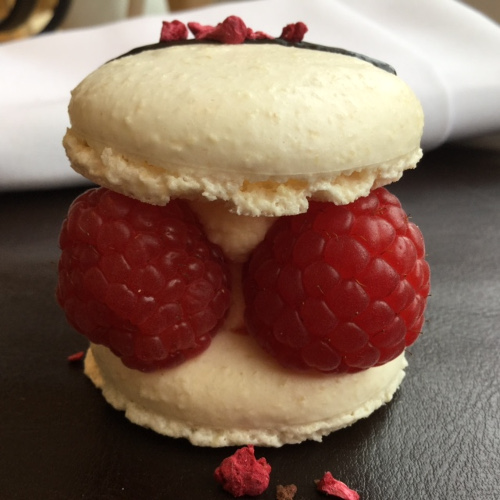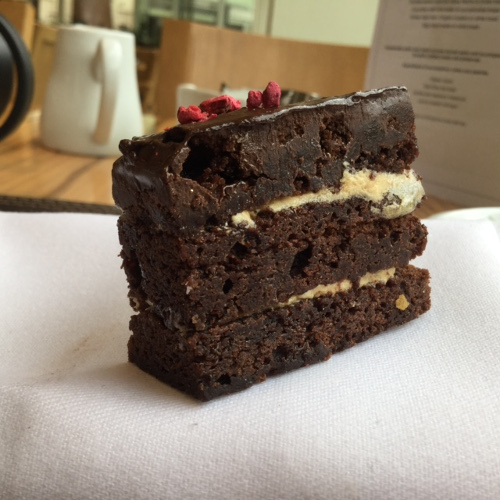 Sumptuousandscrumptious! We thoroughly enjoyed the London Marriott Kensington's new tea offer and, bearing our take-home goodies, we wended our leisurely way back to the tube. A turn around the museums or the shops on Kensington High Street would make a pleasant alternative for the more active tea-goer.
More posts from The AfternoonTea.co.uk Team