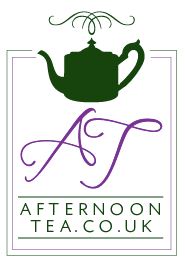 The AfternoonTea.co.uk Team
Here at Afternoon Tea Towers the team are always on the look out for Afternoon Tea related news, reviews, seasonal menus, special events and competitions.
You can get in touch with us via Twitter, Facebook and Google+ or email us at team@afternoontea.co.uk if you have anything you would like to share or contribute.
---
Bakeoff contestant Martha Collison, has provided us with some delicious recipes from her new book, Twist: Creative Ideas to Reinvent Your Baking, in which she demonstrates how to take basic recipes and turn them into something new.
In today's extract, Martha gives advice on how to make scrumptious butterscotch almond bars!
BUTTERSCOTCH ALMOND BAR
This chocolate bar is so simple to make, yet so delicious! The buttery caramel is made by boiling sugar, golden syrup and butter together, so it is much less likely to crystallise than regular caramel. This makes the recipe almost foolproof; just keep a close eye on it to make sure it doesn't burn and use a saucepan large enough for the mixture to bubble in.
MAKES 24
100g butter
275g caster sugar
50g golden syrup
75g flaked almonds, finely chopped
Pinch of sea salt 200g dark chocolate
You will also need a 20 x 35cm tin
1. Line a 20 x 35cm tin with baking parchment.
2. Mix the butter, sugar and golden syrup in a large heavy-based saucepan and stir in 50ml of water. Bring to the boil and allow the mixture to bubble until it turns dark golden brown (150°C on a sugar thermometer, if you have one). It takes about ten minutes to reach this point on a fairly high heat.
3. Take the saucepan off the heat and add the almonds and sea salt. Stir well, then pour the hot mixture into the prepared tin. When the mixture has been cooling for around five minutes, it will begin to harden. At this point, use a sharp knife to divide the mixture into 24 squares. You don't need to cut all the way through - just marking it will make it easier to break into neat pieces when it is completely cool.
4. Temper the chocolate as described on page 208. Once tempered, dip each square into the chocolate and if you like you can make a pattern by dragging a fork across the top of the chocolate, then leave to harden completely on a piece of baking parchment. These will keep well in an airtight container for up to three weeks.
Twist: Creative Ideas to Reinvent Your Baking by Martha Collison is available to purchase now. You can buy the book here
More posts from The AfternoonTea.co.uk Team