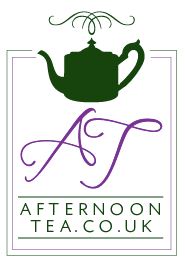 The AfternoonTea.co.uk Team
Here at Afternoon Tea Towers the team are always on the look out for Afternoon Tea related news, reviews, seasonal menus, special events and competitions.
You can get in touch with us via Twitter, Facebook and Google+ or email us at team@afternoontea.co.uk if you have anything you would like to share or contribute.
---
The AfternoonTea.co.uk team visited Kaia, the Asian-Pacific-inspired restaurant tucked away in The Ned, to try their colourful Japanese Afternoon Tea.
At this point The Ned needs no introduction. Since opening last year, it has become a firm favourite in The City. This striking Grade I listed building previously served as The Midland Bank and has been renovated into a lavish hotel, preserving many of the bank's original features. The impressive 3000 square meter banking hall is now home to a collection of restaurants, including Kaia.
The banking hall of The Ned is a cavernous space defined by the high ceilings supported by marble green pillars. After a brief tour of the hall and admiring the harpist that was playing in the centre stage, we made our way over to Kaia.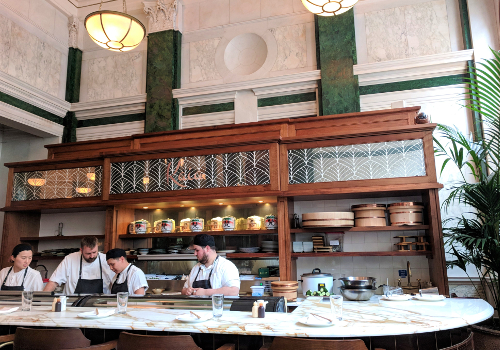 Tucked away in the corner of the hall, Kaia is a tranquil spot filled with a variety of plants and trinkets. Featuring an open kitchen framed by Japanese lanterns, we could watch the chefs prepare intricate dishes. Kaia promises to deliver fresh and wholesome food and the presence of sushi and poke bowls on their menus suggest an expertise in seafood- the word 'kaia' means 'the sea' in Hawaiian.
After a friendly greeting, we were seated and offered a range of classic loose-leaf tea served in traditional Japanese cast iron teapots. I opted for a light silver needle tea whilst my dining partner chose the smokey lapsang.
Before we knew it, we were presented with our Afternoon Tea, served on a rustic round metal stand. The first thing I noticed is how colourful and beautiful the food is!
I was particularly excited to try the savoury options as they are an intriguing departure from the usual finger sandwiches. We started with the temari sushi- rice balls topped with the freshest raw salmon and tuna that melted in the mouth.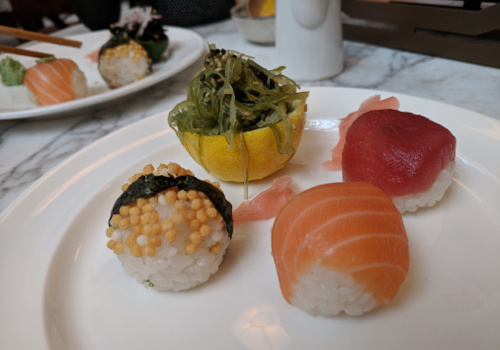 Our server kindly explained that temari sushi is named after Termari balls, the ancient Japanese cultural folk art of embroidered balls. Temari sushi is often served on happy occasions in Japan, so we felt like this set a good tone for our experience.
We then made our way through the pickled onigiri, a rice ball with seaweed and pickled plum, which was sweet and delicious. The savoury course concluded with the seaweed salad, presented in adorable bowls from carved citrus fruits. I particularly enjoyed the wakame, which is thicker than the other seaweed salad.
The desserts were an inventive twist on the traditional British tea cakes and we agreed that they worked perfectly.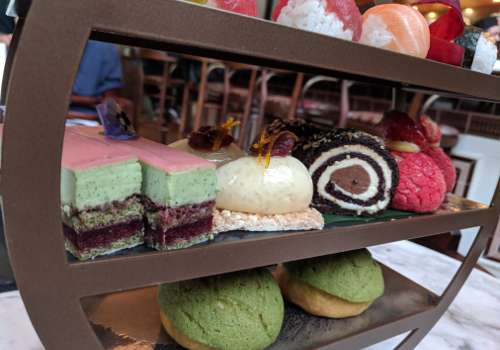 Familiar Afternoon Tea sweets were reinvented with fresh, fruity flavours and Asian-inspired ingredients. For example, Black Forest Gateaux appears as 'Green Forest', an invigorating slice flavoured with matcha, cherries and white chocolate. I loved the rich Chocolate Roulade with the sesame ganache and the 'Rice Cream' was a deliciously inventive cake- azuki bean flavoured with orange, served on a white chocolate biscuit base.
We particularly enjoyed the Strawberry Yuzu Choux- a choux pastry covered in a crunchy strawberry layer and filled with strawberry cream and yuzu curd. This has a clean, fresh citrus flavour that balanced the sweetness of the strawberry.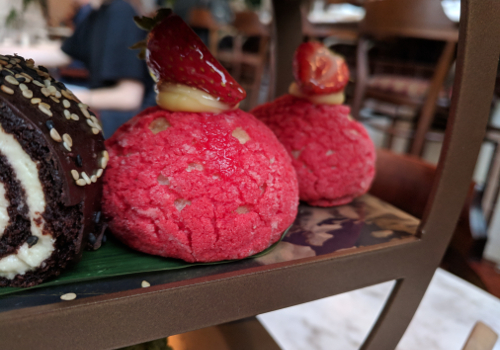 However, our favourite aspect of the Japanese Afternoon Tea was undoubtably the Matcha Melon Pan buns: Kaia's variation on the usual scones with clotted cream and jam. These soft steamed matcha flavoured bun are served with thick kumquat compote and the Kaia curd, which is made with Pandan leaves. Pandan leaves are a popular flavouring in many East Asian dishes used to add a subtle sweet flavour, comparable to vanilla, to desserts. Unfortunately, the pan buns were devoured too quickly to take a good photograph of them!
We left feeling light and bright enough to explore London- the Japanese Afternoon Tea is an interesting and (possibly) healthier twist on the traditional offering! A visit to Kaia is a must for fans of Japanese cuisine and Afternoon Tea alike.
More posts from The AfternoonTea.co.uk Team