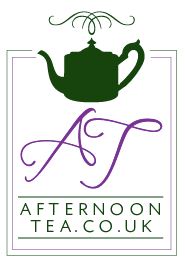 The AfternoonTea.co.uk Team
Here at Afternoon Tea Towers the team are always on the look out for Afternoon Tea related news, reviews, seasonal menus, special events and competitions.
You can get in touch with us via Twitter, Facebook and Google+ or email us at team@afternoontea.co.uk if you have anything you would like to share or contribute.
---
Do you like chocolate or is that a silly question to ask? Whether you're a complete chocolate fiend or just partial to a square or two, this Afternoon Tea is perfect for any chocolate enthusiast.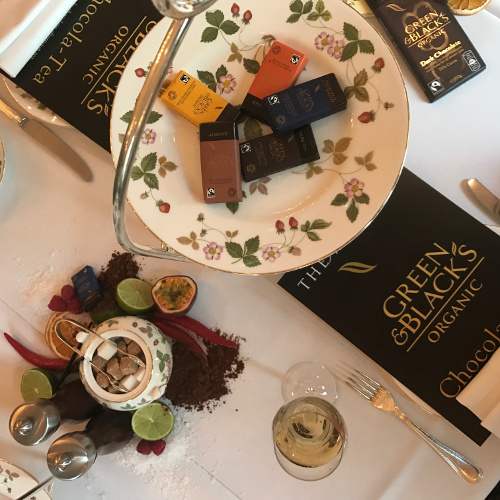 The Hyatt Regency - The Churchill is tucked just behind Oxford Street at the Marble Arch end, and, as you walk in you are swept into an air of opulence. Everything in The Churchill is inspired by the life of Winston Churchill and so the Afternoon Tea at The Montagu is no different. With chocolate being Winston Churchill's favourite dessert, the Chocola-Tea is completely befitting to his tastes as everything (and I mean everything) is infused, sprinkled or cooked with chocolate. Yes, even the savoury selections. The Montagu teamed up with Green & Blacks to co-create London's first ever entirely chocolate Afternoon Tea to also celebrate the brand's 25th anniversary.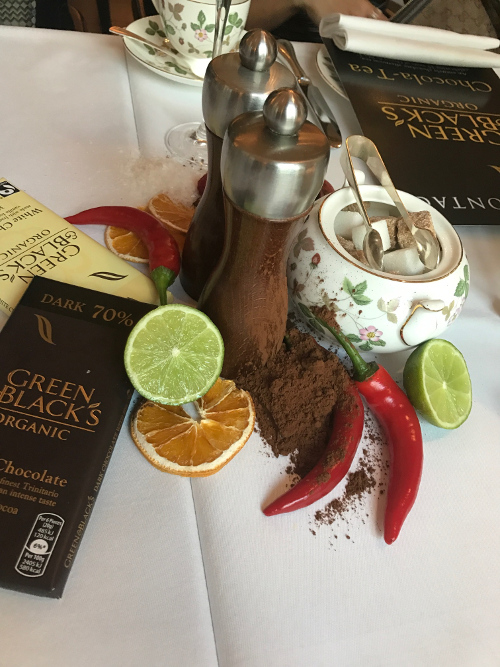 To start, I was offered the Sir Winston's Martini Cocktail which is a twist on the traditional classic Martinez. The cocktail is strong and warming and definitely not for the faint-hearted, it's a fabulous way to start off your Tea with the glass garnished with a sprinkling of Green & Blacks' 85% Dark Chocolate. When explaining the cocktail to us, the team stated that people are drinking a lot more with Afternoon Teas so they felt like it was important to have a cocktail accompaniment. You can also opt for champagne if you're not a fan of spirits. My 8 year old niece who came along with me wasn't left out of the cocktails either and the team generously created her a special chocolate mocktail.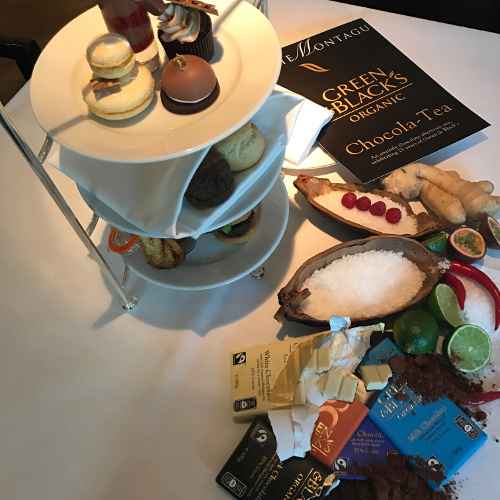 If you're apprehensive of the idea of chocolate in savoury dishes, allow me to quell your fears; everything in the savoury portion was beyond delicious. Coronation chicken sandwiches on chocolate bread? Amazing. Mini burgers with chilli chocolate-infused BBQ sauce? Incredible. I was presented with combinations that on paper, raise many questions, but somehow as they fuse together in your mouth, they just inexplicably work.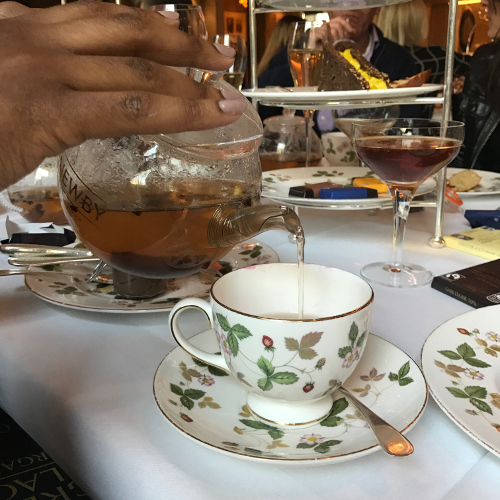 The savoury delights were washed down with the tea of the Afternoon Tea. However, this wasn't any old tea, this tea is exclusive to this menu and was based on, you guessed it, a chocolate bar. The Maya Gold Cocoa Nib Tea is inspired by Green & Blacks' Maya Gold bar which was the first ever Fairtrade product to be sold in the UK. It's infused with orange, cinnamon and nutmeg and was the perfect balance of warming and refreshing.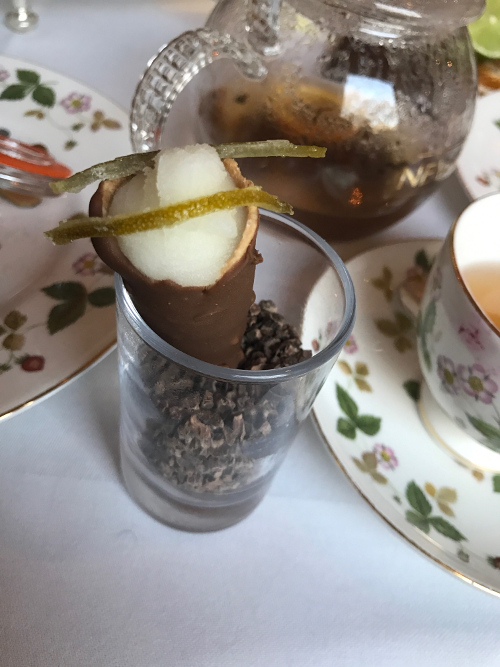 Then it was onto the dessert treats! The section of the Afternoon Tea that anyone with even the slightest sweet tooth would be excited by. We started with the lime sorbet in a ginger chocolate cone, because obviously as the only ice cream part of the Tea, you don't want it to melt, but also because, cleverly, this was designed to be eaten straight after the savouries as a palette cleanser, taking away the notes of smoked salmon and pate that we'd previously eaten. Of the sweet treats, the dark chocolate cupcake was a favourite as it came with a fun pipet full of salted chocolate sauce that you could garnish yourself, which brought a fun interactive element to the Tea.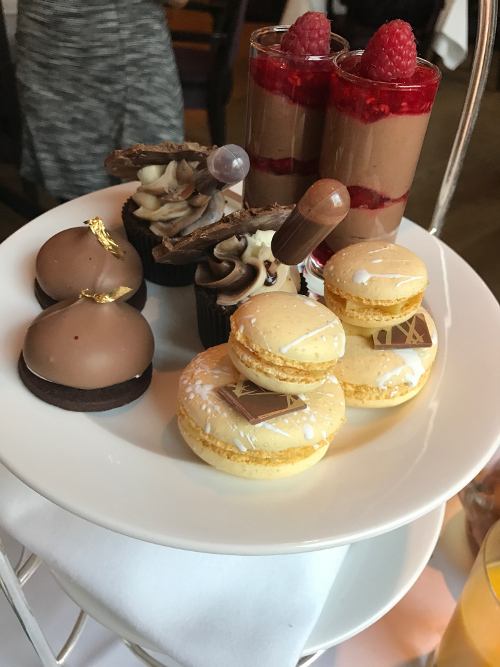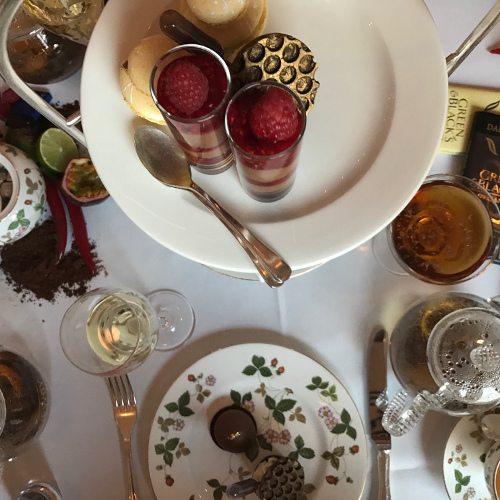 Overall, I couldn't have been happier with the Afternoon Chocola-Tea at The Montagu, and would recommend it to any chocolate lover looking to indulge!
More posts from The AfternoonTea.co.uk Team