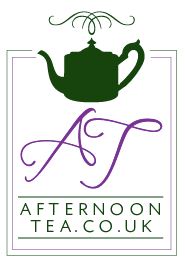 The AfternoonTea.co.uk Team
Here at Afternoon Tea Towers the team are always on the look out for Afternoon Tea related news, reviews, seasonal menus, special events and competitions.
You can get in touch with us via Twitter, Facebook and Google+ or email us at team@afternoontea.co.uk if you have anything you would like to share or contribute.
---
The AfternoonTea.co.uk team recently visited the Crystal Moon Lounge at Corinthia Hotel London to try their newly launched luxurious Afternoon Tea.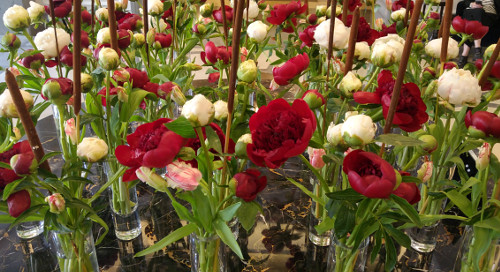 The Corinthia is one of the finest hotels in London, offering a modern yet luxurious take on the traditional and they have recently updated their Afternoon Tea menu and service keeping firmly in touch with this ethos.
The AfternoonTea.co.uk team were recently (and very kindly) invited down to see for ourselves and we were suitably impressed! The in-house florist at Corinthia London always creates wonderful floral displays to decorate the public areas and the one that greets us on arrival is no exception. A simple array of glass vases with red and white peonies is beautiful - a case of less is more.
The display is repeated on a table in the centre of the bright and airy, circular lounge, where our Afternoon Tea will be served. Above is a magnificent chandelier made from 1,001 Baccarat crystals - tucked away inside is a single red crystal, a theme that is carried through to the menus.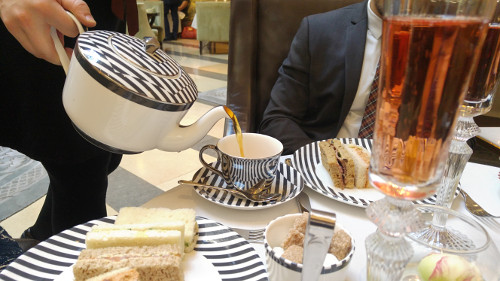 Champagne is served in heavy Baccarat crystal flutes to continue the experience and the Laurent Perrier Rose Champagne we enjoy is particularly lovely. The attention to detail in the service is impeccable, mirroring the red crystal in the beautiful Chandelier each table is set with silver and black mirrored crockery and one place is set with a red and gold variation of the same custom-made crockery. This same level of detail and intricacy is taken through to the food, served individually to each person for each course allowing you to enjoy each element of the Afternoon Tea to its fullest.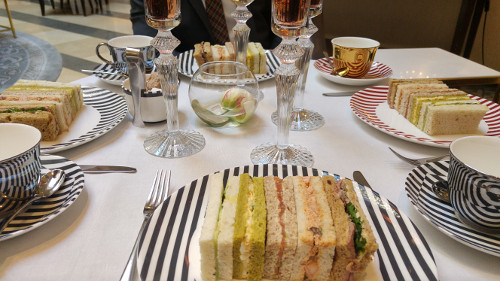 The sandwiches themselves are all the usual favourites with a twist - creating something that is perfect for regular Afternoon Tea goers or those who will only ever try one and want to keep it traditional. A delightful tandoori chicken replaces the more traditional coronation chicken and the egg mayo is imbued with a hint of truffle which was delicious! We were treated to a quick talk from the in-house tea sommelier who helps suggest which teas might be paired with the courses and explain some of the Corinthia's wonderful in house blends, we try one of each of the three in house blends which offer different strengths of flavour from mellow to aromatic.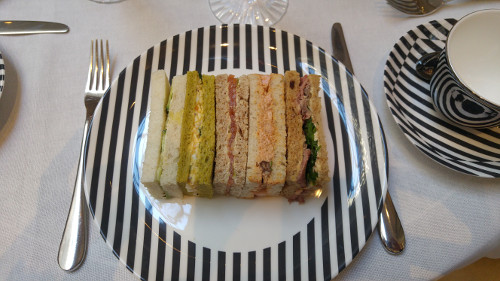 The scones are served warm in a beautiful presentation box, and once again there is a unique twist on the traditional; this time in the form of the rhubarb and tonka bean jam served in addition to strawberry and a clotted cream.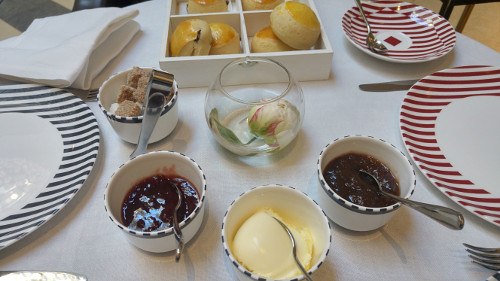 Once we were done with the scones (not a crumb left!) we were ready for our desserts and this was a lovely a surprise. The real star of the Corinthia's new Afternoon Tea service must be the stunning vintage dessert trolley from which all the sweet plate is served. Wheeled to your table and with one of each of the pastries for each person, this capped off what was a wonderfully indulgent experience. A personal favourite had to be the Irish coffee éclair which the perfect way to end a perfect Afternoon Tea.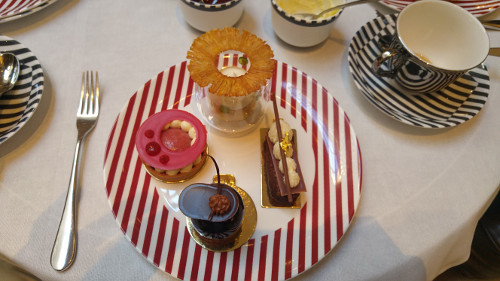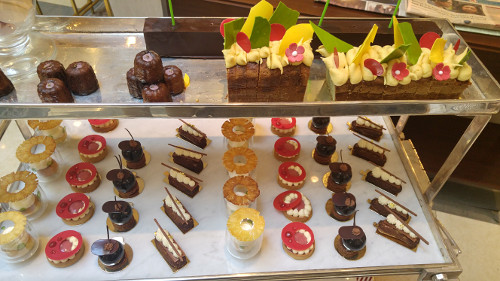 All in all, a delightfully indulgent experience in the most luxurious surroundings with consistent attention to detail (a nod to the red crystal in the chandelier). We would highly recommend this stunning Afternoon Tea to anyone who wants a very special treat or anyone compiling a list of must-visits in London.
More posts from The AfternoonTea.co.uk Team