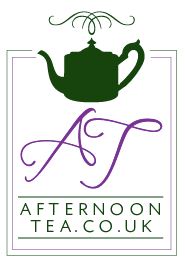 The AfternoonTea.co.uk Team
Here at Afternoon Tea Towers the team are always on the look out for Afternoon Tea related news, reviews, seasonal menus, special events and competitions.
You can get in touch with us via Twitter, Facebook and Google+ or email us at team@afternoontea.co.uk if you have anything you would like to share or contribute.
---
Keen to get a taste of some of the best Afternoon Tea offerings in the North West, the AfternoonTea.co.uk team were invited down to The Great John Street Hotel in Manchester to try out their delightful Traditional Afternoon Tea offering.
Formerly a Victorian Schoolhouse, Great John Street Hotel is a charming retreat just off Deansgate in the illustrious area of Spinningfields in Manchester. We were given a lovely warm welcome by the team to enjoy their Traditional Afternoon Tea on a chilly Friday afternoon in February.
Attention to detail has not gone amiss at this boutique hotel. For Afternoon Tea, we were seated in the eye-catching library, where original fixtures and vintage pieces make for a grandiose space to escape from the cold and to enjoy a relaxing afternoon spent by the fireplace amongst the adventures hidden with the bookshelves. They also serve Afternoon Tea in the adjacent Oyster bar that is located beyond the stairs; an equally charismatic space that can also be overlooked and appreciated from the floor above.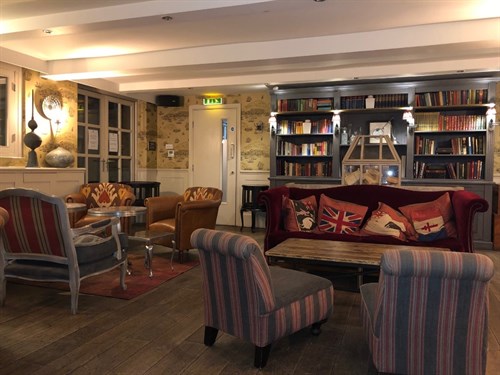 We were seated on a cosy sofa next to a traditional fireplace and were greeted by our waiter, George, who presented us their tea selection for a much-needed cuppa. Great John Street Hotel brews the delightful Newby Tea which is served in classic white teapots with traditional floral teacups and saucers. I opted for the classic - an English breakfast tea - whilst my friend opted for the strawberry & mango tea which had a lingering finish of sweet honey to it. George presented our Afternoon Tea to us and politely ran us through each item. Lingering away from the traditional, three-tier piece, the savouries were served on a secondary plate whilst the sweets were offered across two tiers, meaning that we were given sizeable portions of cakes and cream for the scones which suited me and my friend perfectly - but more on that later.
The plate of savouries was beautifully presented, with delicate edible flowers and physalis fruits surrounding the selection of sandwiches. The savoury selection featured traditional sandwich fillings such as pastrami & mayo mustard and cucumber with cream cheese alongside more contemporary offerings such as red pepper & hummus sandwiches and a beetroot & cream cheese canape. Our favourite was the salmon roll which was delightfully tasty and an enjoyable change from the classic finger sandwich.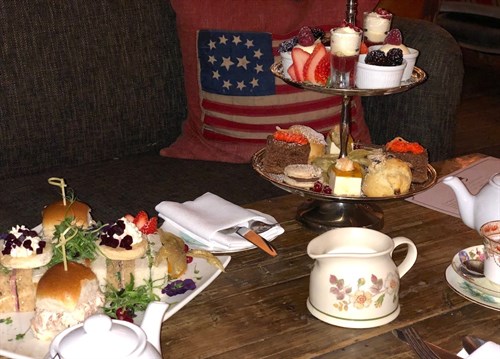 After devouring the plate of savouries and the accompanying berries, we moved onto our scones. I always look forward to the scones most as part of my Afternoon Tea experience, and we certainly weren't disappointed this time either, as - again - extra thought had been taken into the details of the serving, with blackberries and raspberries accompanying the jam and cream which made for a refreshing bite between eating our savouries and scones.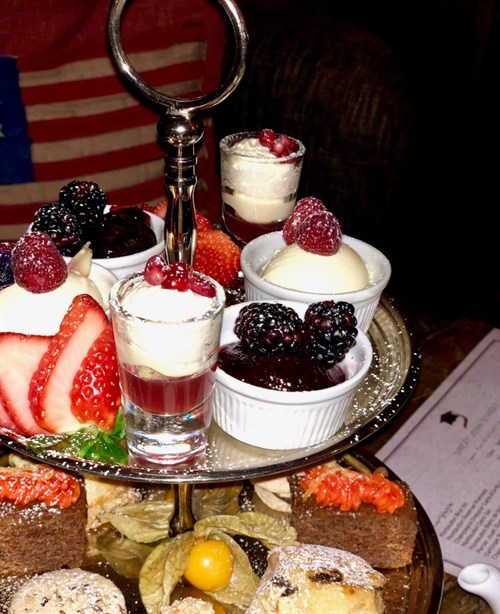 Finally, we were onto our sweet treats. The selection was very varied with a mixture of cakes and fruity desserts on offer. We started with the passionfruit and coconut cheesecake which was favourably tangy and very soft with a hint of coconut taste, which I greatly enjoyed albeit not usually being a big coconut fan. There was also a fruity strawberry trifle that had been topped with pomegranate and a hazelnut & praline macaron which made for a pleasurable switch amongst the sweeter offerings. Finally, we had what was our favourite sweet; the chai tea and orange cake. The cake was beautifully light and had an almost cinnamon-like taste with an after-taste of orange from the topping. I enjoyed that traditional recipes had been joined alongside some more contemporary flavourings as it really complemented each flavour well.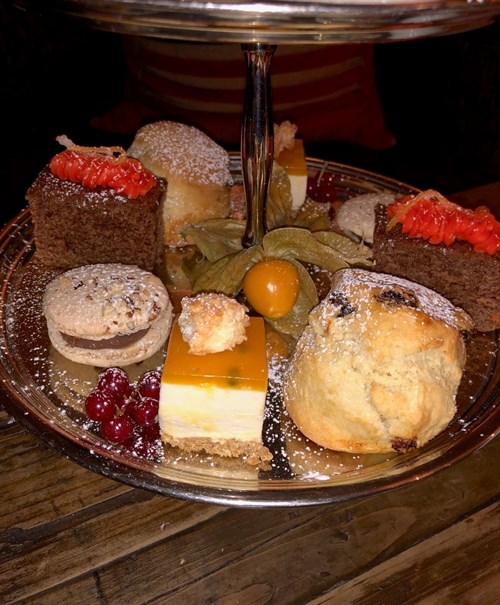 All in all, our experience at Great John Street Hotel made for an extremely delicious and delightful afternoon. The venue made for the perfect cosy escape and had us feeling so relaxed and at home that we almost didn't want to leave, with an Afternoon Tea that I would highly recommend.
More posts from The AfternoonTea.co.uk Team