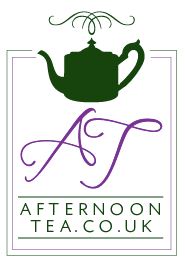 The AfternoonTea.co.uk Team
Here at Afternoon Tea Towers the team are always on the look out for Afternoon Tea related news, reviews, seasonal menus, special events and competitions.
You can get in touch with us via Twitter, Facebook and Google+ or email us at team@afternoontea.co.uk if you have anything you would like to share or contribute.
---
We visited Cellarium Cafe for a delicious Afternoon Tea on a crisp winter's day and enjoyed some of the surrounding Westminster Abbey's historic charm.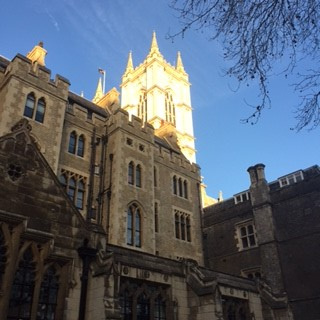 Last Sunday was a bright, crisp winter's day in the capital, one when we truly counted ourselves lucky to live in a city so steeped in historic charm. To really appreciate it's majesty and tradition, we thought, perhaps there would be no better place to visit for tea than the Cellarium café, buried in the heart of the 926 year old (!) iconic Westminster Abbey.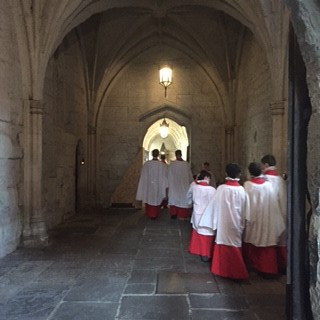 Entering the charming courtyard, we felt as thought we'd stepped back several centuries, and the café, nesting cozily within the fabric of the Abbey itself, was low lit and wonderfully warm, sun streaming through it's arched windowpanes.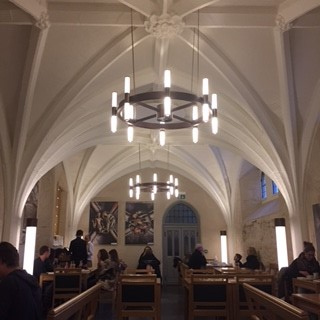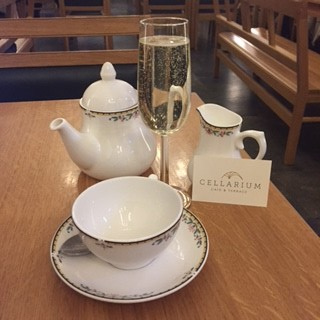 Warming our hands with cups of delicious Elderflower and Lemon tea and sinking into our afternoon prosecco (well, it is Christmas after all!) we were naturally delighted when our tiered tray of food was laid before us… but even more overjoyed, when, as if by Christmas miracle, a second tray arrived… six whole plates for two small people! But who were we do argue…?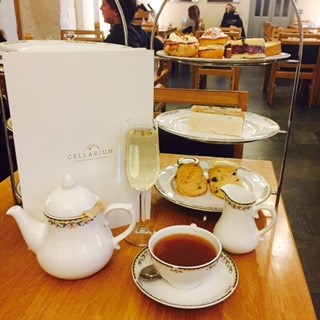 Treat-wise, the real strong suit at Cellarium was the imaginative sandwich fillings, a particular highlight was a rich duck roule spread with chive butter that melted away in our mouths. Lovely giant scones, served with jam and cream, overflowed with currants on the base plates, but we had to stop ourselves from scoffing them all, as we didn't want to be too full to enjoy the desserts, of which there were seven elfishly sized varieties!
Each sweet morsel was more delicious than the last. Our favourite, a sweet white chocolate and berry mini tart was so divine it was gone in one bite, and so soft you could just tell it had been made fresh that day. A festive flair ran through the selection, and a tiny puffed mince pie, and Christmas pudding truffle rounded off the whole affair wonderfully.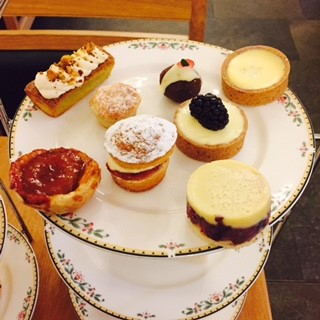 Weekend breaks and day-trips to London are such a popular gift or getaway over the Christmas and winter season, and it's of our opinion that enjoying an afternoon tea at Cellarium should be placed high on the itinerary. Although the reason for our particular visit was 'just because', we felt the experience would be much enjoyed by couples, friends, or families enjoying a weekend shopping or sightseeing. Ensconced warmly inside the ancient arches, away from the crowds, we felt like we'd found a very secret, special place.
More posts from The AfternoonTea.co.uk Team