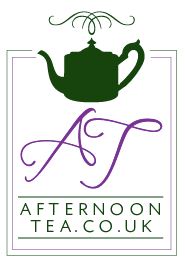 The AfternoonTea.co.uk Team
Here at Afternoon Tea Towers the team are always on the look out for Afternoon Tea related news, reviews, seasonal menus, special events and competitions.
You can get in touch with us via Twitter, Facebook and Google+ or email us at team@afternoontea.co.uk if you have anything you would like to share or contribute.
---
We went along to Twinings 216, The Strand to celebrate their Golden Lyon Anniversary with a special Tea Masterclass to enjoy a variety of tea related treats and add to learn more about different tea blends.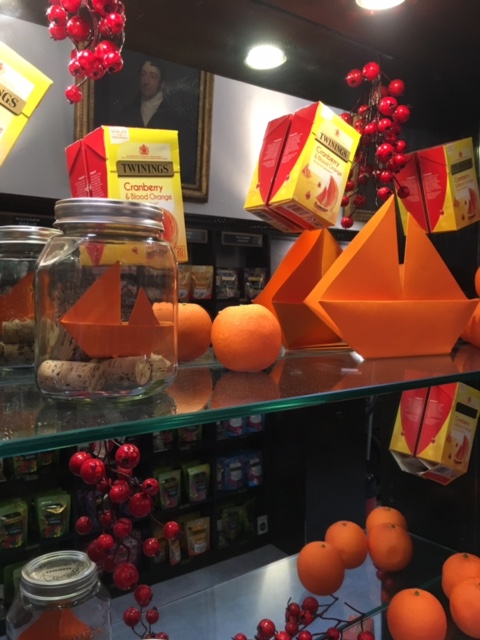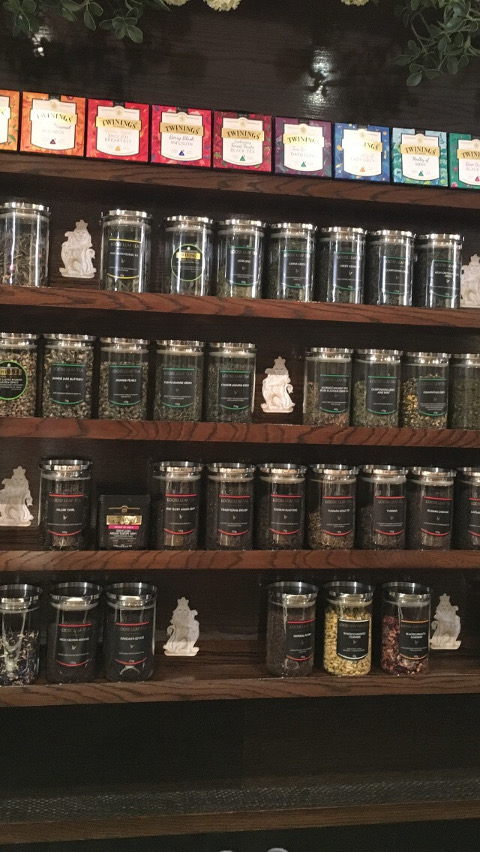 Even if you've been along The Strand countless times, you may have missed the Twinings shop, a bijou emporium just across the road from the Royal Courts of Justice. Yet amazingly it's been there for more than 300 years! And bijou it may be, but imposing for all that and packed to the rafters with an astonishing variety of teas, a fascinating tea museum, and the elegant tasting bar where we gathered to celebrate the 300th anniversary of the Golden Lyon. This was the name of the shop when it became London's first to sell exclusively tea in 1717.
Our session was expertly hosted by Twinings' Senior Brand Ambassador Marta Masala who explained to us that back in an age where few could read or write, a visible and easily remembered street sign was key to good business. Hence the Golden Lyon which was one of the world's very first corporate logos and is still in use today.
The Golden Lyon is to be founding guarding the imposing entrance and on arrival we were able to look around the glass cabinets at the back of the shop, housing many fascinating tea artefacts from the last 300 years. Then, taking our seats at the tea bar, we were presented with a welcoming glass of Prosecco and a dainty China teapot containing Twinings Jasmine Pearls, so called because the leaves are hand-rolled into tiny balls. We were invited to prepare a cocktail by adding a little of the tea to the Prosecco. This proved unexpectedly delicious! Accompanying our cocktail were canapés of smoked salmon and cream cheese, a succulent starter to a five course feast which would, Marta promised "bring tea back to the centre of afternoon tea".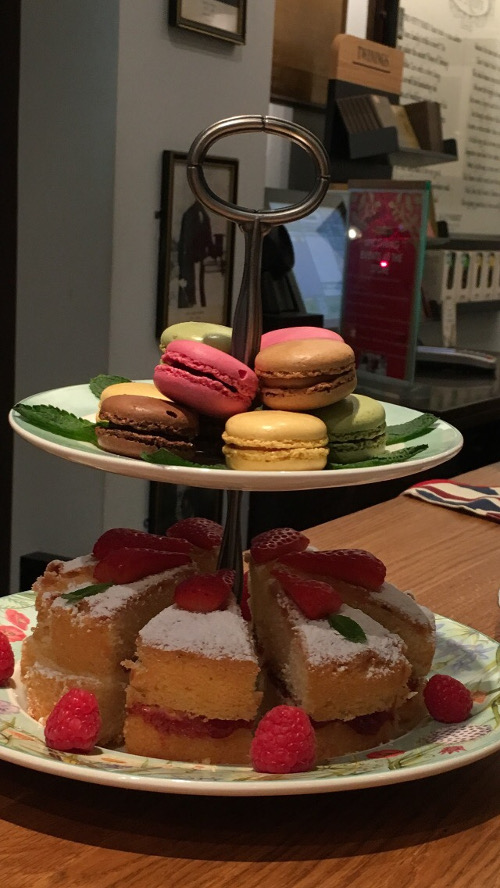 Next up was the delightful Rosy Fig tea, fragrant and flavoursome. We could definitely detect roses and figs but there is also a real depth of flavour to this tea that "roses and figs" does not do justice to. All the time we were eating and drinking Marta provided a comprehensive commentary on the history of the premises, tea and tea drinking, with plenty of tips on how to make the perfect pot or cup - the water should be justbelowboiling point and never add milk. For those who choose to ignore this advice and ponder instead the eternal question of milk in first or last, apparently milk was only added first because of the inferior quality of British China in the seventeenth and eighteenth centuries, being prone to cracking if hot tea was poured in first.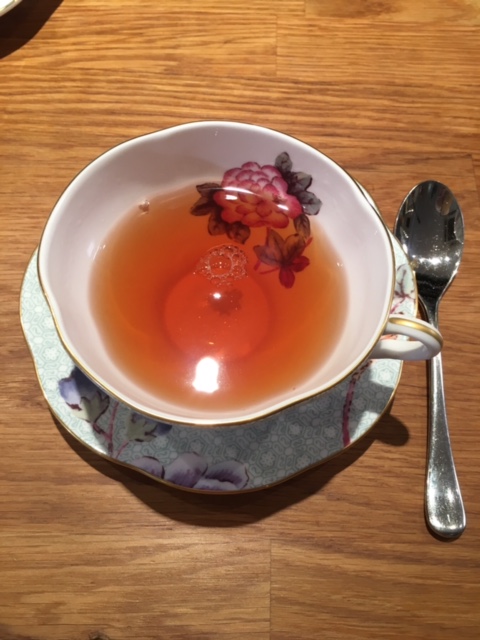 We then enjoyed a lovely light Victoria Sponge served with a delightfully refreshing First Flush Darjeeling from Lingia Tea Estate in the lesser Himalayas of West Bengal. This familiar sponge cake is apparently named after Queen Victoria who popularised afternoon tea in the first place.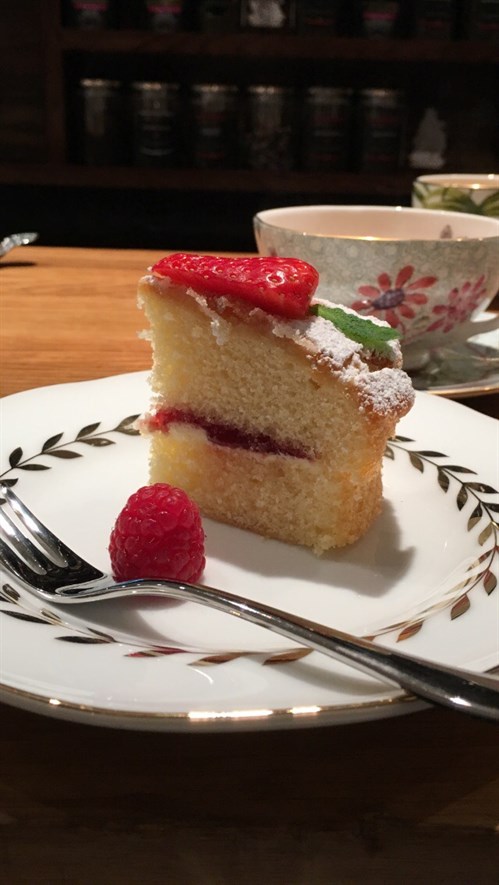 After sufficient time to savour this and also absorb more nuggets of knowledge from Marta we cleansed our palates with a brew of Huo Shan Hang Ya. This is a rare yellow tea, so called because the process by which it is produced - steaming under a cloth cover - gives it a yellowish hue compared to standard green teas.
Next we were treated to a delicious salted caramel and chocolate pot paired with Second Flush Assam TGFOP1 Tippy from the select Langharjan Estate. TGFOP1 refers to one of the formal grades of tea, standing for Tippy Golden Flowery Orange Pekoe. The 1 denotes the highest quality leaves in the TGFOP classification. The robust flavour of the Assam tea - no milk, naturally - cut nicely through the rich and indulgent texture of the dessert.
The fifth and final course consisted of one of Twinings many varieties of Earl Grey tea, London Strand, accompanied by a beautiful plate of colourful macarons. Each tin of Earl Grey sold by Twinings carries the signature of the sixth Earl Grey. It was the second Earl Grey who permitted Twinings to sell to the public the blend specially created for him by Twinings in the 1830s. We found the bergamot and lemon peel in London Strand the perfect foil for the petite and chewy almond macarons.
Altogether we found the pairings of tea and food to be both eye-opening and sense-enhancing, delightful to sight and smell as well as taste. And we had learnt so much! We finished our banquet feeling inspired to try the range of Twinings teas on offer in the shop and also to use them to create our own matches with food.
I have included here only a fraction of the information we received from the infectiously enthusiastic Marta. On the afternoon we visited, a film crew were recording footage for a TV programme on tea to be broadcast in China. An indication that when the world wants to know about tea, it looks to Twinings on The Strand! And there's no need to worry that you missed this illustrious occasion as the Golden Lyon Anniversary Tea is just one of a whole series of Tea Events and Masterclasses on offer. If you've an occasion you'd like to celebrate with friends or family this would be a novel treat and Twinings is happy to arrange something especially for you.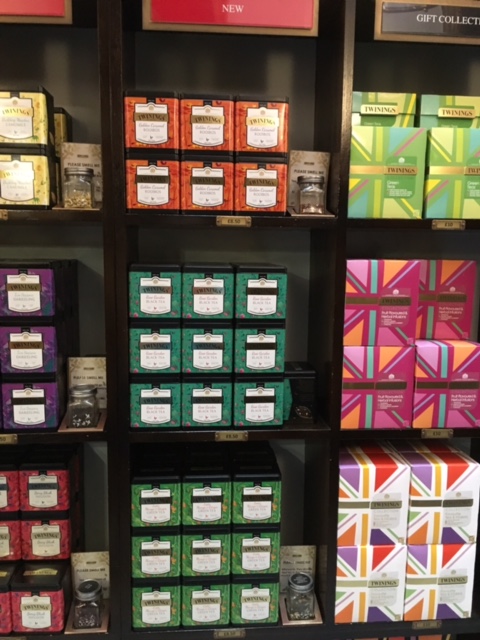 Final tip from Marta: if you're brewing tea from a tea bag, to savour the true flavour you should let it brew for two to three minutes. Average brewing time in Britain is just 45 seconds.
A Masterclass is the perfect gift for the tea lover in your life. To purchase a tea experience visit here
More posts from The AfternoonTea.co.uk Team