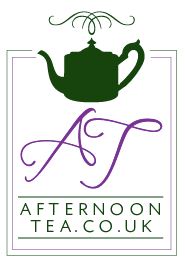 The AfternoonTea.co.uk Team
Here at Afternoon Tea Towers the team are always on the look out for Afternoon Tea related news, reviews, seasonal menus, special events and competitions.
You can get in touch with us via Twitter, Facebook and Google+ or email us at team@afternoontea.co.uk if you have anything you would like to share or contribute.
---
At AfternoonTea.co.uk, we think the best way to celebrate the Queen's birthday is by indulging in the British ritual of Afternoon Tea, so we've compiled a list to help you pick the ideal way to mark the occasion.
Today marks one of the biggest events of the British calendar year as the nation begins its celebrations to commemorate Queen Elizabeth's 90th birthday. Her majesty's birthday falls on the 21st April with the official celebrations taking place at Windsor Castle from the 12-15th May. And the festivities for this landmark occasion continue right into the summer with a weekend celebrating the Queen's patronage over the 12-15th June. Here at AfternoonTea.co.uk, we think there's no better way to celebrate the Queen's 90th birthday than by indulging in the great British tradition of Afternoon Tea, so we've compiled a list of some of the top royally themed offers to help you select the ideal way to pay your tributes as the Queen reaches this milestone age.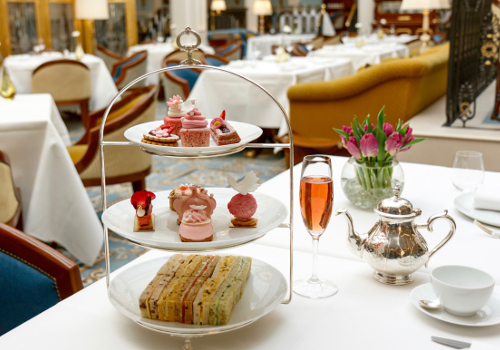 The Lanesborough
The Lanesborough Hotel are holding a joint Royal celebration to honour The Queen's 90th Birthday and Princess Charlotte of Cambridge's first birthday. Indulge in the special Pink Princess Afternoon Tea menu developed by award-winning Head Pastry chef Nicolas Rouzand that includes quintessential dishes such as succulent scones and delicious finger sandwiches. This menu features pink patisseries that are offset by glimmers of gold, white and silver decoration. The sweet delicacies are topped off with delicately iced butterflies, flowers and petals which give the Afternoon Tea a truly regal feel. This offer is available from May 1st until June 12th.
Dorchester Hotel
To honour the Queen's 90th birthday, The Dorchester Hotel are offering a special Afternoon Tea menu, featuring savoury finger sandwiches and delicious themed pastries. An afternoon of luxury at this lavish hotel is topped off with a glass of Laurent Perrier Champagne. The offer runs in conjunction with Trooping the Colour, also known as The Queen's Birthday Parade on the weekend of the 11th & 12th June.
Park Plaza Sherlock Holmes
This hotel that takes its name from Britain's most famous detective is running a Champagne Afternoon Tea in honour of Her Majesty's Birthday. Enjoy a selection of quintessential Afternoon Tea dishes along with traditional British desserts and a celebratory glass of Champagne in this menu available until 30th June.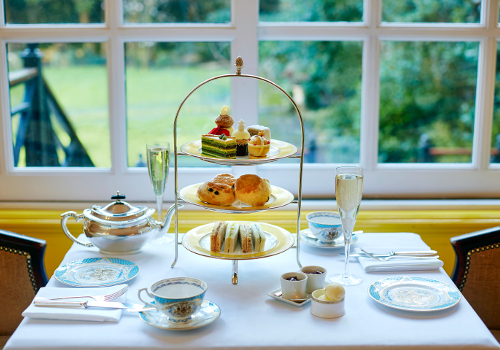 Goring
Enjoy a special Afternoon Tea to honour Her Majesty's 90th Birthday at this British institution. The Goring's award winning pastry chefs have crafted a menu to honour the Queen that includes her favourite fruit cake along with a number of royally themed pastries. This special menu is available throughout Summer until the end of August.
The Arch
To celebrate Her Majesty's milestone and 2016's busy Royal calendar of events, the five-star hotel has devised a perfectly patriotic Royal Afternoon Tea that is available from 1st May until 10th July. The Arch London's stately spread will feature a procession of dishes worthy of the Royal seal of approval including delicacies such as Chicken liver parfait with spiced fig chutney.
Ma Plucker
The fried chicken specialists are running their own special menu to commemorate Queen Elizabeth's birthday. This alternative Afternoon Tea menu features a selection of themed mini burgers and sweets accompanied with a glass of fizz or alcoholic ice tea. Children aged under 10 years can have the Mini Pluckers Afternoon Tea that costs just £5 per child in this menu that is running until 30th June.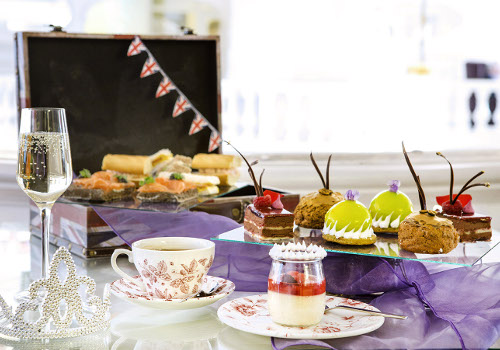 St Ermins
St Ermin's Hotel are celebrating the Queen's Birthday by offering a sumptuous Royal Afternoon Tea menu until 30th August. Enjoy a menu featuring a variety of British themed goodies, with guests treated to a special 'Going Strong at 90' drink on arrival. This stylish hotel is also offering a 'NineTea' menu for children aged 12 and under which consists of royal themed treats such as a Queen Cheese & Cucumber Sandwich and a Buckingham Palace Roll!
Jumeirah Carlton Tower
The Jumeirah Carlton Tower are offering a Brilliantly British 90 Years Afternoon Tea to mark the big occasion. This new menu charters the Queen's life with a menu made up of sumptuous British culinary classics and teatime trends from 1920s to 2000s onwards. This elegant venue will be serving this special menu until 26th June.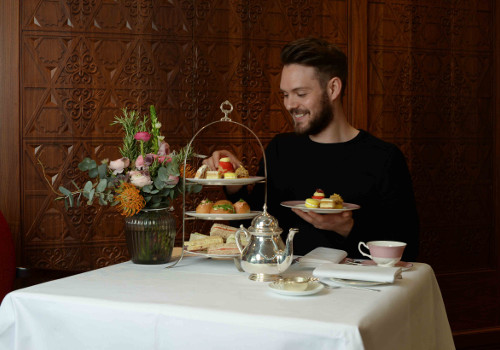 The Royal Horseguards Hotel
The prestigious hotel is offering A Right Royal Afternoon Tea in honour of the Queen's Birthday that is designed by The Great British Bake Off series 3 winner, John Whaite. A Right Royal Afternoon Tea takes inspiration from the flavours of the Commonwealth and features innovative sweet treats such as Hazelnut & Maple Chocolate Tarts and Yuzu & Coconut Blondies. You can spoil yourself to this menu with 20% off in an offer available until 31st August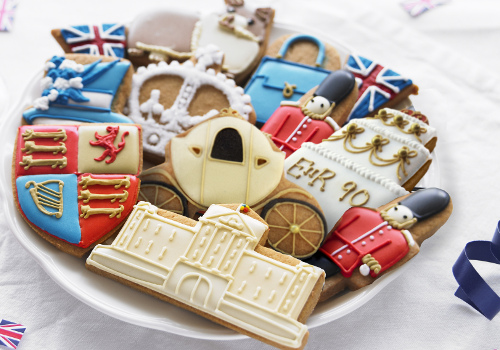 Biscuiteers
If you are looking for a different way to commemorate the occasion, then Biscuiteers have created a limited edition Queen's 90th Birthday Collection of hand-iced biscuits. The luxury biscuit makers have crafted a selection of royally themed biscuits in the shape of things such as crowns, corgis and Union Jack flags. The biscuits are carefully packaged in a specially designed biscuit tin and is a charming item of memorabilia to remember the monarch's milestone year!
More posts from The AfternoonTea.co.uk Team