SouthBankLondon.com
South Bank London is an arts & entertainment guide of all things South Bank from theatre, exhibitions, free events, festivals and hotels to shopping, drinking and dining.
We Brits may not always have ideal weather, however you have to admit that our tradition of taking tea along with towering platters of cake, sandwiches, pork pies and perhaps even a scotch egg thrown in for good measure – more than makes up for this.
THESPIAN'S DELIGHT AT THE NATIONAL THEATRE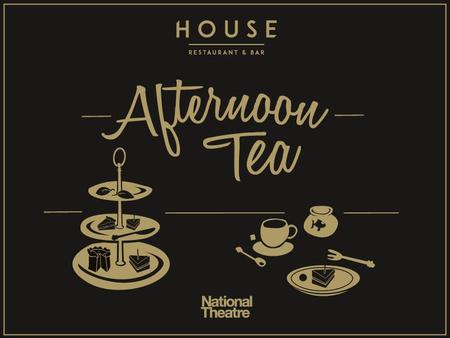 Tinkle your china at the National Theatre for a theatre-themed afternoon tea with a twist!
All the elements of this rather quirky take on the classic afternoon tea are inspired by previous National Theatre productions. Starting with a Curtain Up Bellini, going through into Act 1 with a selection of finger sandwiches and crumbly pork pie. Next up, enjoy an Interval ice cream, before finishing in Act 2 with a grand finale.
Get into the spirit of things with the playful menu, which features mouth-watering delicacies inspired by productions such as One Man, Two Guvnors, Sweeney Todd, My Fair Lady and A Taste of Honey.
Try the delicious "Lady Bracknell Triangles" -cucumber and cream cheese sandwiches- not to be eaten until Aunt Augusta arrives! (The Importance of Being Earnest), and "Thing 1 and Thing 2" - green eggs and ham (The Cat in the Hat).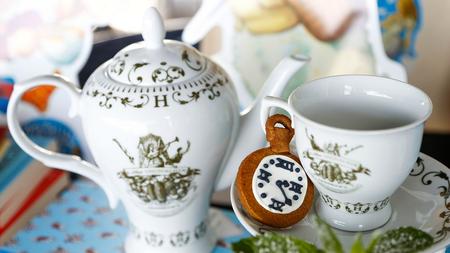 Tower Restaurant, Bar and Brasserie's Not Afternoon Teais an experience which is not all it seems… Take a pew at the Mad Hatter's table and celebrate the 150th anniversary of Alice in Wonderland at OXO Tower Restaurant, Bar and Brasserie - in typical quirky OXO style! In the words of The Mad Hatter, "it's always tea time", and we couldn't agree more. Have a taste of the mysterious 'Eat Me, Drink Me' surprise on arrival if you dare, then fall down the rabbit hole as you enjoy a seasonal Not Afternoon Tea plate of your choice with a bespoke cocktail and a few surprises along the way…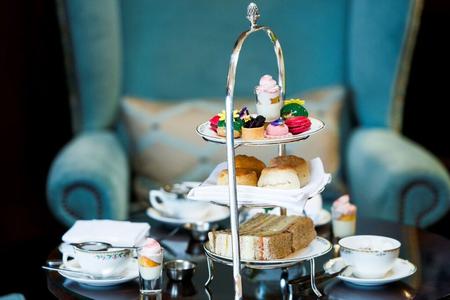 The Library Lounge at Marriott County Hall offers one of the most traditional and luxurious afternoon teas in the South Bank.

The building itself is steeped in history and has a colourful past, having been opened in 1922 by King George V and Queen Mary. Take tea in the ancient Library Lounge amongst the leather bound volumes and beautiful carved oak bookshelves which stretch from floor to ceiling. In winter, a crackling fire adds an extra touch of cosiness to the experience, and views across the river to Big Ben and the Houses of Parliament aren't bad either.

Enjoy delicious finger sandwiches - London dry gin cured salmon with caper butter and Sipsmith botanical crusted beef and watercress, followed by a selection of cakes and desserts including vanilla panacotta, apple and blackcurrant macaroons, pistachio and rosewater financiers with orange cream and sugar crusted cherry scones with the most delicious clotted cream. Increase the luxury-factor by adding a glass of Champagne. This is one experience you won't forget too soon!

Indulge in the most traditional of afternoon teas in modern, sleek surroundings at the Spectrum Bar and Café, located at Park Plaza County Hall.

Spectrum basks in daylight from the stunning glass front and offers tables outside for those balmy summer afternoons. The menu includes warm buttermilk scones with strawberry jam and Cornish clotted cream as well as finger sandwiches including Shetland smoked salmon with cream cheese on lemon bread and a selection of delicious crumbly pastries from the Spectrum patisserie. The premise of this menu is based on the saying - if it ain't broke, don't fix it, and we couldn't agree more.

FOR TEA ON THE THAMES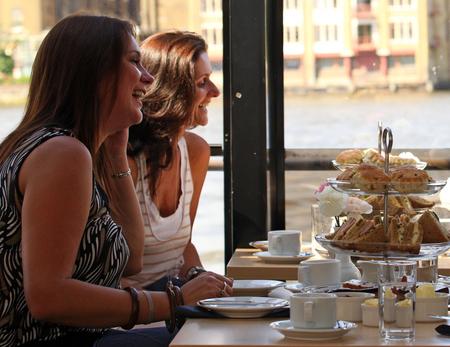 Afternoon Tea while cruising along the Thames- what a civilised way to pass the afternoon! Enjoy a full afternoon tea experience with City Cruises - which means scones, jam and a generous dollop of cream, finger sandwiches and cakes - all whilst you cruise peacefully along the Thames. Enjoy all the sights of London whilst you sip on an endless supply of tea - and when you've finished off your tea, you can always stroll upstairs to take in the 360 degree views of London's riverside landmarks.

FOR TEA WITH AN ASIAN TWIST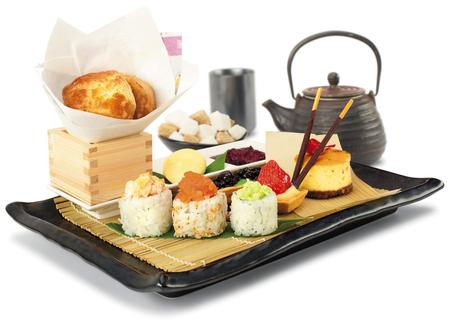 The Chino Latino Afternoon Tea at the Park Plaza Riverbank offers a Pan-Asian twist on a British institution.

Known for its modern Pan-Asian cuisine, this afternoon tea draws upon the delicate flavours of China, South East Asia and Japan for a fusion of sweet and savoury bite size treats. Choose from their extensive tea menu, where you are encouraged to smell your tea before you choose. Teas are sourced from artisan tea maker Camellia's and include the Chino Latino bespoke blend of green tea, with exotic and subtle fruit and the gentle kick of spice, or the Assam Bargang, sourced in Northern India. If you prefer, substitute tea for a glass of Perrier-Jouet Champagne!

For afternoon tea with an infusion of Eastern promise, head to ICHI at Park Plaza Westminster Bridge.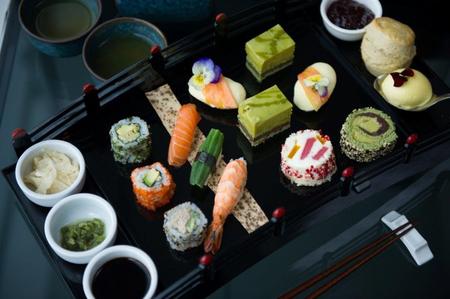 Here, finger sandwiches are swapped for sushi bites including prawn, okru and salmon nigiri, with signature Japanese deserts such as the delicately flavoured green tea and chocolate Japanese savin, coconut tapioca, red bean and sesame matcha roulade and coconut, passion fruit and strawberry temptation... Choose white apricot, mango, chocolate or cherry blossom tea to accompany your eastern experience.

Afternoon Tea addict? Discover weird and wonderful facts about the very British tradition in South Bank
More posts from SouthBankLondon.com