Felicia Tan
Felicia Tan is a Malaysian living in London. She is a lifestyle blogger and covers a variety of topics including food, travel, and the things she loves in her life. Read more at her blog: Dancing in High Heels
We invited Felicia Tan for the sumptuous Scents of Summer Afternoon Tea at The Wellington Lounge set in the Intercontinental London Park Lane.
Scents of Summer Afternoon Tea, Wellington Lounge, Intercontinental London Park Lane
I have often walked past this iconic site, peering in rather discreetly and enviously through the glass windows, as guests lounged leisurely whilst sipping dainty cups of tea. Wellington Lounge at the five-star Intercontinental London Park Lane, is indeed a much sought-after location in the heart of London. Beautifully located on the site of 145 Piccadilly, the Queen's former childhood residence, it offers a delightful view overlooking the Royal Parks and iconic London landmarks. I had heard good things about their decadent afternoon teas, hence, I was quite excited to finally experience it for myself.
We were seated by the window, the usually stunning view slightly dampened by the wet weather, but our spirits remained unfazed as we sunk comfortably into the ample sofa chairs. The interior was light and airy, with a blend of contemporary and nature-inspired designs that transported us to a calm and serene sanctuary, a vast contrast to the grim-looking weather outside - the 'predictable unpredictability' of British summertime. However, no matter how short and temperamental the British summer may be, it truly is a wondrous sight when the sun breaks through the clouds, and flowers are in full bloom, flourishing in all its glory.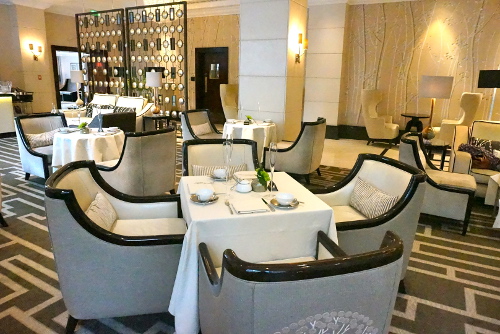 The Afternoon Tea menu at Wellington Lounge takes inspiration from its bountiful surroundings, and undergoes creative transformations with the changing seasons whilst utilizing the best of British ingredients. Scents of Summer Afternoon Tea is a collaboration between InterContinental London Park Lane Executive Chef Ashley Wells and Edward Bodenham from Floris London, British Family Perfumers since 1730. This limited edition Afternoon Tea is a sensory journey and celebration of the beauty of British summertime, which depicts the harmonisation of perfumery expertise and culinary skills.
We were given a brief history and explanation of the venue and menu by our friendly waiter, Luigi, who then kindly made a few recommendations of teas to pair with the menu. The first two teas that we ordered were the 'First Flush Darjeeling Okayti Estate' which had a beautiful floral aroma, and 'Ti Quan Yin Top Fancy Oolong', a deeper and richer tea with musky notes.
Our immersive experience soon began as Luigi placed the three-tiered stand before us. In his hand was an elegant bottle of Floris fragrance, which he sprayed from above, releasing clouds of mist which carried wafts of freshly cut grass. On the top tier, placed upon a tuft of fresh green grass, were a couple of shots of healthy-looking palate cleansers, made up of wheatgrass, gooseberry and strawberry pearls. Instead of the usual rectangular-cut sandwiches, they were presented in scroll like shapes, and the standard white and brown bread replaced by vibrantly coloured infused breads, with an intriguing assortment of fillings.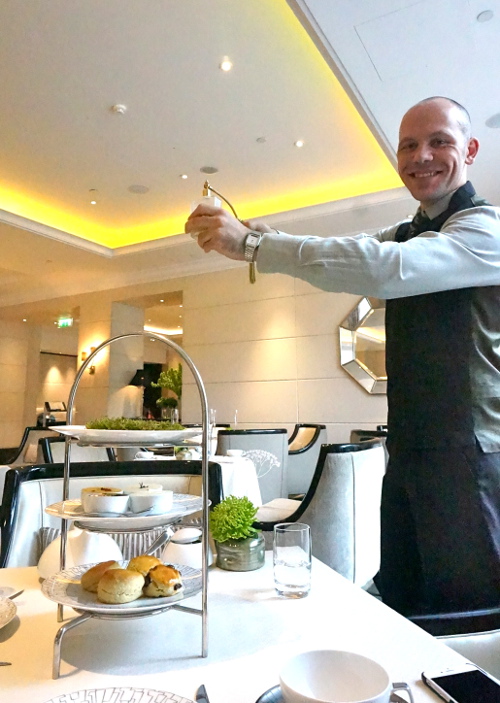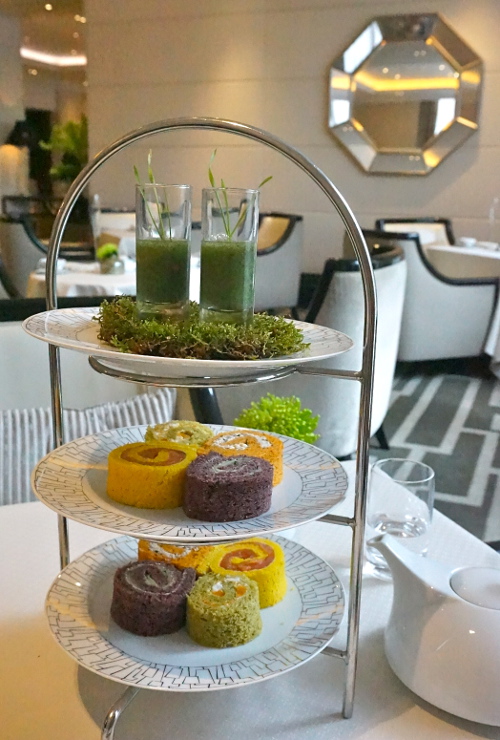 We hungrily dived in for the hearty bergamot infused cream cheese scroll which had a particularly generous amount of smoked salmon, served on bright yellow lemon bread - my favourite of them all, knowing how much I love salmon. Next was a lighter rose pickled cucumber with mascarpone cheese on Peruvian bread. The pink peppercorn and thyme chicken served on tomato bread had a nice hint of spiciness, followed by an interesting honey roast pumpkin crumbled feta served on spinach bread - a nice combination of textures and flavours.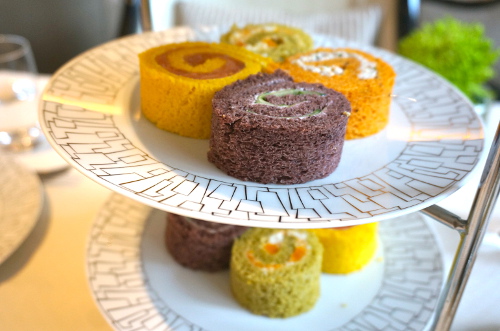 Our empty plates were then cleared and replaced with warm mini sultana and wholemeal scones, served with classic Devon clotted cream and wild strawberry jam, as well as a pink peppercorn lemon curd and an Earl Grey infused butter. We paired this with the 'Lapsang Souchong Falcon' which had a distinctive smokey flavour, and the light and sweeter 'Jasmine Yin Zhen'.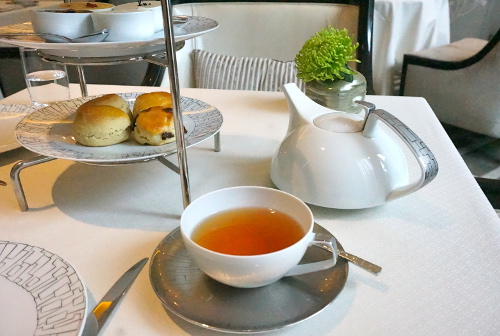 It was eventually time for the finale, as Luigi placed an elegant array of cakes, presented in a way to celebrate the quintessential English Garden, paired with another lovely Floris fragrance which carried subtle scents of Jasmine. Our much awaited champagne flutes were topped up with bubbly Moët & Chandon Rosé Impérial Champagne, a perfect accompaniment for this sweet course. We were informed that everything in it was edible, with the exception of the marble tray that it was served on, of course - my fingers caressed the cool surface, just to double check.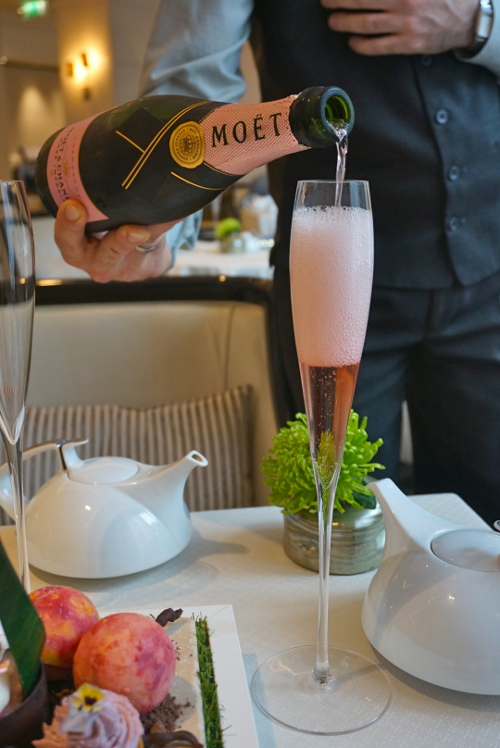 The selection looked absolutely stunning, and we were initially a bit hesitant to ruin this work of art, but our appetites got the best of us as always, and we began with the bite-sized Jasmine tea cakes, followed by the flower-shaped bergamot macarons. The grapefruit tart topped with violet cream was as delicious as it looked, garnished with some delicate edible flowers. The Peach Melba mousse was encased within a sweet white chocolate shell which released the creamy and moist contents as we bit into them. We picked and nibbled on the fresh summer berries to refresh our palates in between and munched away on the chocolate garden stones - my dining companion stared dubiously at the stones whilst I convinced her that they were indeed edible. There was also a corner scattered with dark chocolate soil with some long squiggly pieces, that we were both debating over whether they were supposed to be twigs or earthworms. They were really tasty nonetheless. My favourite amongst them all was undoubtedly the 'Flower Pot', the centrepiece which consisted of a rose water and pink peppercorn jelly with wild strawberry mousse served in a chocolate 'Terracotta' pot. I could potentially develop more of an interest in gardening if my garden was made up of such tantalizing edible delights - but then again I'm not quite sure how sustainable that would be with my constant sweet tooth cravings...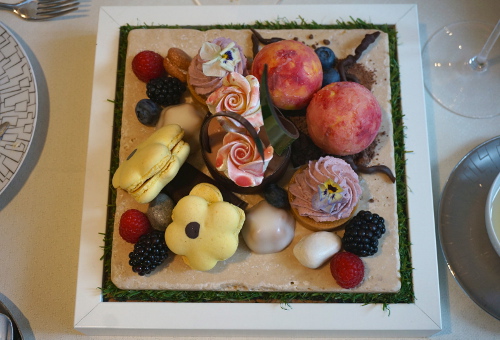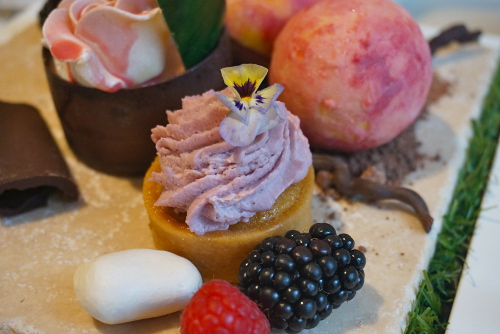 The ambience was relaxed and unhurried as we picked away at the remaining bits of chocolate and sipped the last drops of champagne, our appetites thoroughly satisfied.
Scents of Summer Afternoon Tea is priced at £45 per person, and is available until 27th September 2015. Gluten free options are also available upon request. Besides this limited edition afternoon tea, they also have a Royal Tea option, priced at £35 per person. And in case you weren't aware of it already, Afternoon Tea Week will be running from 10th-16th August 2015, with plenty of venues to choose from on the afternoontea.co.uk website, and this would definitely be one of my top recommendations.
By Felicia Tan
dancing-in-high-heels.blogspot.co.uk
More posts from Felicia Tan