Afternoon Tea Diaries
Afternoon Tea Diaries chronicles some of the best Afternoon Teas available in London and beyond. Read more over on Instagram @afternoonteadiaries
Afternoon Tea Diaries visited 108 pantry at The Marylebone Hotel London to try the newly launched Vegan English Country Garden Afternoon Tea menu.
Having previously taken Afternoon Tea at a number of the family-owned, boutique Doyle Collection Hotels, including The Marylebone, I was delighted to be invited back to try their newly launched Vegan 'An English Country Garden' Afternoon Tea, served in 108 Pantry.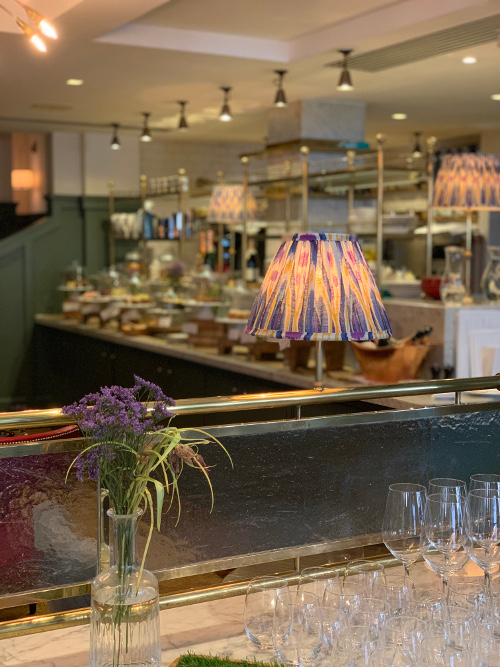 Perfectly nestled a short walk away from the glamourous Bond Street and the bustling Oxford Street on one side, and the serene greenery of Regents Park on the other, The Marylebone Hotel on Welbeck Street is a stylish and unassuming hidden gem. The atmosphere in 108 Pantry is relaxed and welcoming, and we were promptly seated in a beautiful and spacious window booth.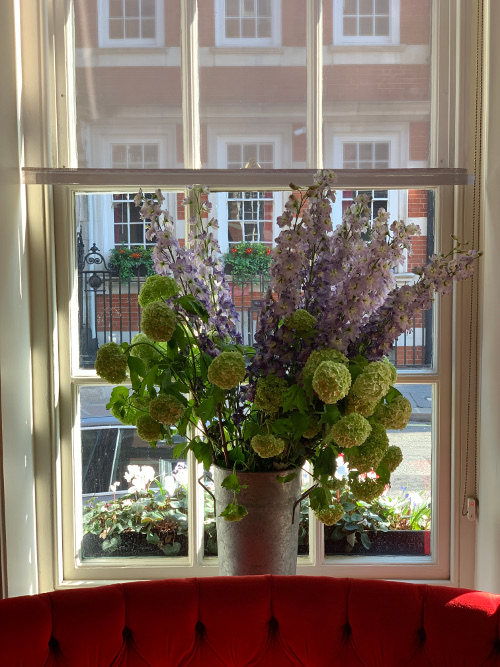 With the increasingly varied choice of vegan and vegetarian-friendly restaurants and cuisines, especially in London, it has been great to see this reflected more and more in Afternoon Tea menus and I was keen to see what 108 Pantry could offer. Presented with the new Spring menus, I found myself instantly captivated by the striking colours and design in the artwork.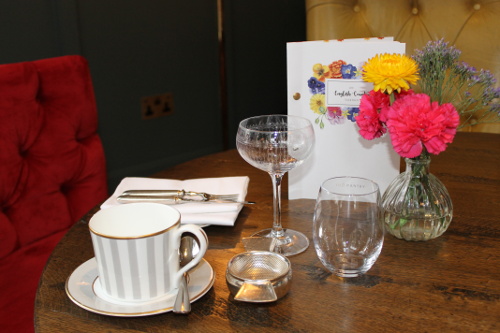 The menus make for a beautiful keepsake of the dining experience, with the scene set early on by an enchanting Jimmie Rodgers' poem, transporting you to a dreamy, warm, sweet and floral Spring day in an English country garden. Setting the scene further, we were promptly presented with a creatively fashioned grassy-meadow serving board with faux-grass and olive oil spread and jams, to accompany the scones, together with terracotta pots of sugar cubes and mini serving cutlery in the form of a garden spade and fork. A lovely surprise was the addition of an edible flower encased in a lollipop. The attention to detail and commitment to the theme was clearly evident.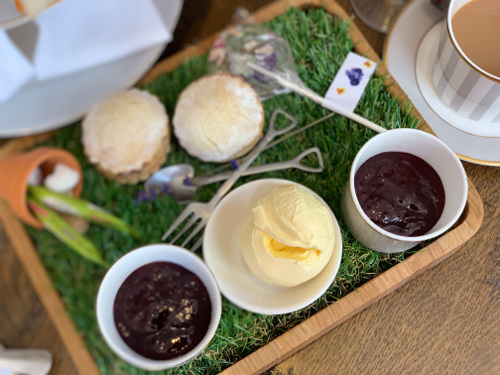 Alongside the Classic Afternoon Tea, a fully Vegan Afternoon Tea variation is offered in the main menu as a complete option to choose, along with a Gluten Free variation. This was a promising start, as rather than being a surprise for the taste buds, as is often the case when ordering Afternoon Tea with specific dietary requirements, those wishing to try the vegan option can truly look ahead to what they're going to sample. The ingredients and flavours sounded amazing and we were eager to get started on the food. But first, we ordered some bubbles, selected our teas, and took lots of photos of course!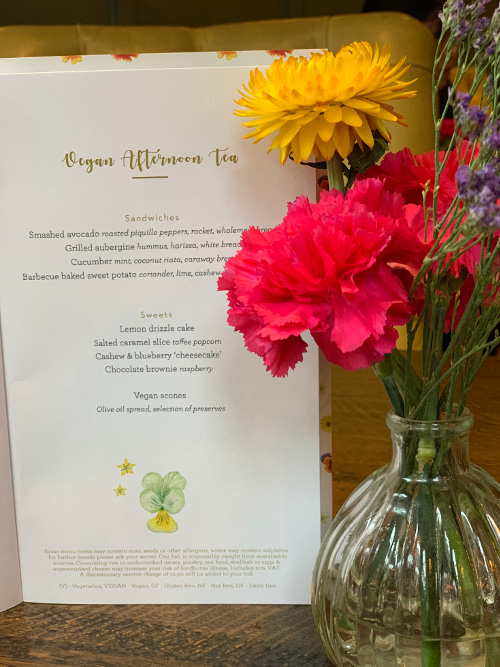 We started off with a couple of glasses of the Nyetimber Classic Cuvée NV from Sussex, though you can order a variety of English sparkling wines, in keeping with the English Country Garden theme, or try the Lady Ruby Cocktail.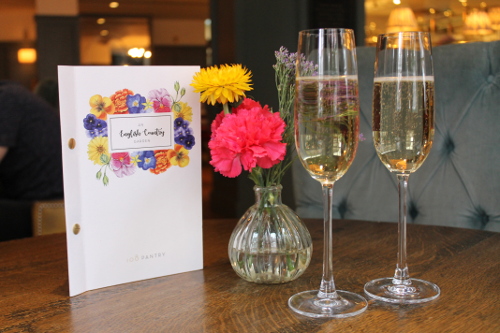 Whilst sipping on these, we were taken through the tea selection by the friendly and knowledgeable staff. There are black, green and white teas, as well as herbal infusions. The teas are supplied by The Rare Tea Company, a small, London-based, independent tea company founded by Henrietta Lovell in 2004. Whilst based in London, they source tea from all over the world, directly from farmers using ethical and sustainable practices, and their speciality loose-leaf tea is now found in some of the world's best restaurants, hotels and bars. To start, we chose the delicious Wild Rooibos herbal infusion, served medium balanced, and sourced from the Cederberg Mountains in South Africa, and also the Earl Grey, sourced from the Satemwa Estate in Malawi and Reggio Calabria in Italy, a delicate black tea scented with pure Calabrian bergamot. Later on we also tried the 2nd Flush Muscatel Darjeeling from the Makaibari Estate in Darjeeling, India, and were offered a choice of soya, almond and oat milk-alternatives to go with this beautifully fragrant black tea with a floral aroma and notes of muscatel grapes.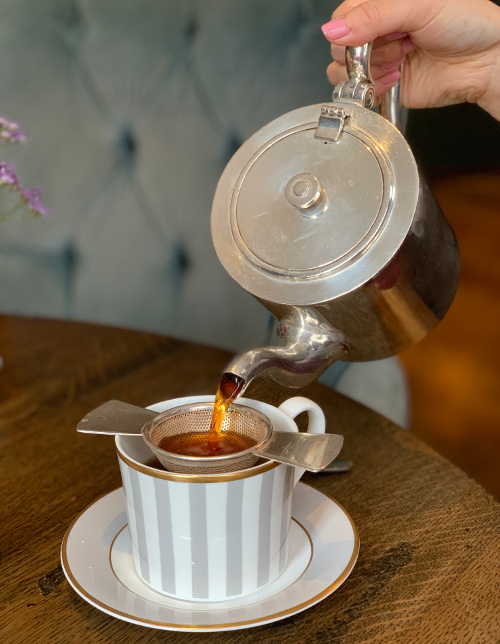 The sandwiches, scones and sweet treats were served on a classic tea stand, something I really love in an Afternoon Tea. I know there are those who offer the experience course by course, and there is something to be said for being able to savour the sandwiches, scones and desserts slowly. Personally, I find it magical to be able to take Afternoon Tea in its entirety, with all the trimmings coming together as a whole. This also provides a great opportunity for those memorable photos!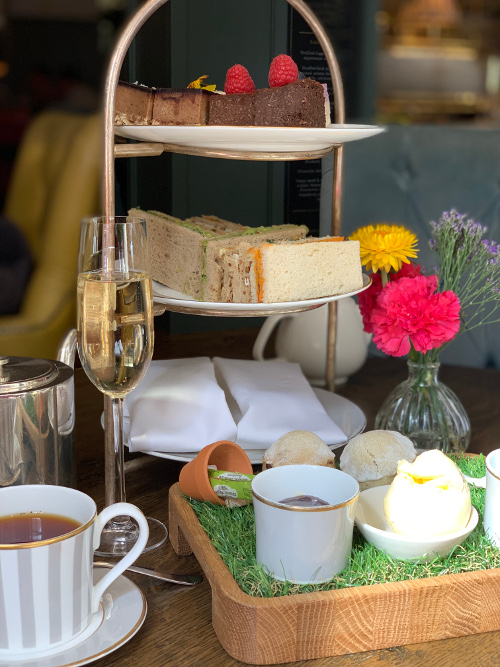 The portions of all the food were very generous and in particular the sandwiches were inventive, delicious and full of flavour. The smashed avocado with roasted piquillo peppers and rocket was light and refreshing, and the grilled aubergine, hummus and harissa was perfectly balanced and a firm favourite. The classic cucumber sandwich was served with a twist of mint and a coconut raita (yoghurt), and the most unusual filling was really tasty too: barbecue baked sweet potato with coriander, lime and cashew mayo. The variety of breads that were served really complemented the fillings - white, wholemeal, caraway seed and onion breads. We were offered seconds and happily accepted - these were some of the tastiest sandwiches I've ever had at an Afternoon Tea!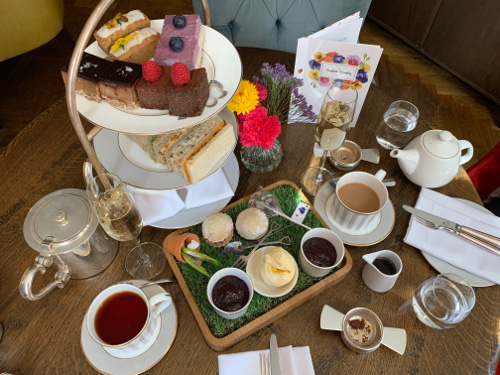 On the sweet side, it was nice to see that the vegan scones were of a similar taste and texture to traditionally made scones, and we enjoyed them with a selection of jams. The cakes and desserts were huge - you definitely won't leave this Afternoon Tea hungry! There was a refreshing lemon drizzle cake, a chocolate brownie for the chocoholics, and my personal favourites: an indulgent, creamy salted caramel slice and a decadent cashew and blueberry 'cheesecake' that definitely tasted like the real deal. As a vegetarian looking to be impressed, I really loved how tasty and flavoursome the vegan food was, and if you're still wondering whether to try this Afternoon Tea, I took along a non-vegan, non-vegetarian guest who thoroughly enjoyed the food and experience.
Service was just brilliant throughout. Staff were friendly and attentive, and no request or question was too much for them. They even provided me some of the recipes for the sweet treats from the kitchen, and I had the opportunity to thank the chefs personally for their delicious creations. I love seeing creativity in vegan cuisine and The Marylebone's Vegan Afternoon Tea not only lived up to my expectations, but surpassed them. 108 Pantry is perfect for a quiet and relaxing spot of Afternoon Tea, especially for those who want a quality experience with a modern touch. The Marylebone Hotel's new vegan menu is now available to try and Afternoon Tea is served from 2pm to 6pm daily.
Blog by Meera of Afternoon Tea Diaries on Instagram
More posts from Afternoon Tea Diaries