Afternoon Tea Awards 2017 - Commended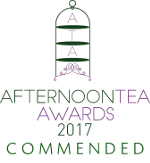 Escape the West End hoards and head to the tranquillity of Hush Mayfair's cobbled courtyard for Gin & Jam Tea.
In the grand tradition of Afternoon Tea, Hush's Gin & Jam Tea features classic teatime treats, including elegant finger sandwiches, warm scones with clotted cream and jam, macaroons and Earl Grey Crème Brûlée, served alongside a selection of artisan loose leaf teas by H. R. Higgins of Mayfair.
Served in the beautiful surroundings of the Blades room, the Tea is a quintessentially British experience, given a breath of life by Hush's Gin & Jam cocktails, all featuring Hush's London-distilled boutique gin. Each cocktail has been curated to reflect the more unusual elements of the Hush gin, whose flavours include Jasmine lotus, Tonka beans and lavender, each one paired with a jam base created exclusively for Hush by Wendy Brandon, who has been making handmade jams and preserves in the UK for over 30 years.
Starting with a Pink Rabbit welcome cocktail (Hush gin, lime, cranberry, vanilla, Wendy Brandon strawberry jam) served in a Tipsy Teacups martini glass, Gin & Jam guests then enjoy a choice of gin cocktails to accompany their tea, such as the Violet Beauregarde (Hush Gin, Cranberry, Violet liqueur, elderflower cordial, Wendy Brandon Gooseberry and Elderflower Jam) or Pippi Longstocking (Hush Gin, Pineapple, Cinnamon, Ginger Beer, Wendy Brandon Rhubarb and Ginger Jam).